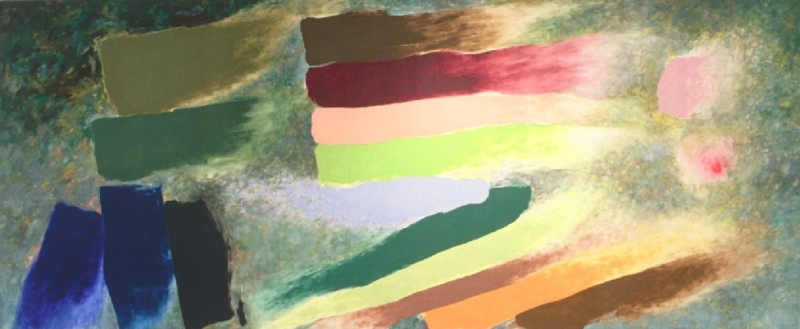 Friedel Dzubas (American, B. Germany, 1915-1994), Grand Mesa, 1977, acrylic on canvas, 116-1/2 x 277-1/4 inches. Castellani Art Museum of Niagara University Collection, Gift of Dr. and Mrs. Armand J. Castellani, 1989.
Of Their Time: Abstraction, Hard-edge and Op Art
Jan 1, 2021 - Jun 27, 2023
Abstract Expressionism, the first truly American art movement, emerged just prior to World War II, originating in New York's Greenwich Village. Also called the New York School, this group of loosely affiliated artists moved visual expression away from natural representation and into the realm of non-objective and expressionistic esthetics.
Abstraction, Abstract Expressionism and Action-painting emphasized the depiction of emotions rather than objects. Many painters favored large canvasses, dramatic colors and loose brushwork. Emphasizing its independence from European art trends, Abstract Expressionism was the first American school to influence artists overseas rather than vice versa.
Of Their Time primarily features works from the Castellani Art Museum's permanent collection. Art historical movements featured in this gallery include Abstraction, Abstract Expressionism, Hard-edge, Op Art and Surrealism—presented in a roughly chronological order.
Abstractionists sought to portray paint texture and the movement of the artist's hand. The act of painting was considered as important as the finished product itself. Op artists (short for Optical) used bold pigmentation, color theory and modern design to create works that exploit, what Victor Vasarely (1906-1977) called, "the fallibility of the eye." Artwork by these artists tends to visually shimmer and vibrate.
Surrealists such as Roberto Matta (1911-2002) and Salvador Dali (1904-1989), in the words of theorist Andre Breton, "resolved the contradictions between dream and reality." French intermedia artist Jean Cocteau (1889-1963) was an influential figure in the Parisian avant-garde as early as the 1920s. The surrealists and their supporters were ultimately interested in the development of techniques that would allow the unconscious mind to express itself.
Correlated to the United States domination in Global politics at this time, the epicenter of the international art world moved away from Europe (Paris especially) to the heart of modern America—New York City. Abstract Expressionism held prominence until the development of Pop Art in the 1960's. The movement had a profound impact on later generations of American artists, particularly in their use of color and materials.
Of Their Time is made possible, in part, by the New York State Council on the Arts with the support of Governor Andrew M. Cuomo and the New York State Legislature.