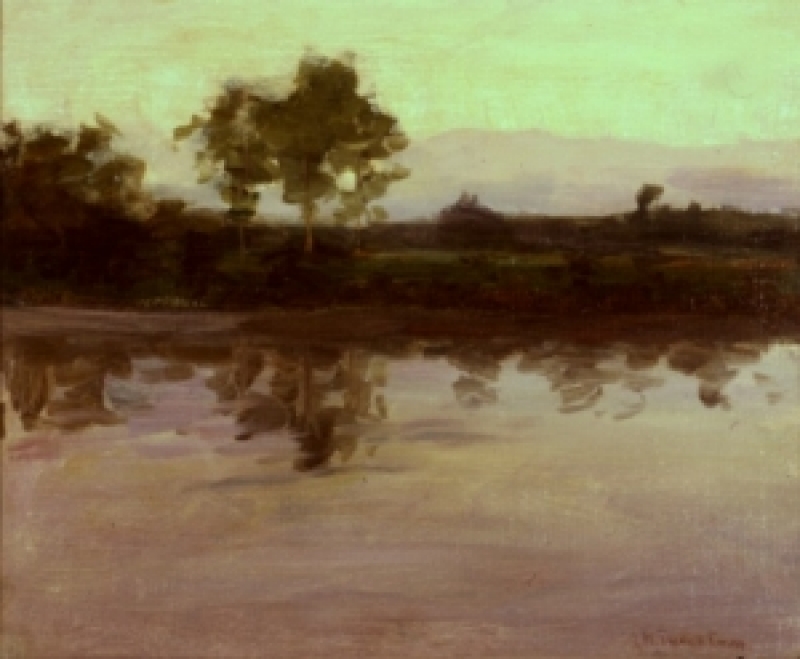 John H. Twachtman, American, lake Landscape, France, oil on canvas, 16 x 20 in. Gift of Dr. and Mrs. Armand J. Castellani.
Albert Bierstadt to John Henry Twachtman: Masterpieces of the North American Landscape
Oct 30, 2011 - May 13, 2012
Masterpieces of the American Landscape included popular selections, as well as recent acquisitions, from the Castellani Art Museum permanent collection that capture the character and natural beauty of American scenery before it was forever changed by industrialization. Through paint, brush and canvas American artists celebrated the beauty of the unspoiled landscape from the Rocky Mountains and Hudson River to the majestic harbors and natural preserves of the northeast.
From the Hudson River School to the American Impressionists, early Modernists and contemporary artists; all contributed to the creation of a vision which we have come to think of as distinctly American. Majestic views to intimate glimpses—these paintings offer a historic stylistic timeline as well as contemplative reflections of how artists interpret nature. We are drawn to these works for the descriptive way in which they evoke the natural world and celebrate the great diversity of the American landscape. Most significantly, these artists have each captured a time and a place that will never exist again. Each work is a synthesis of the physical land, the prevailing attitude toward it and an individual interpretation.