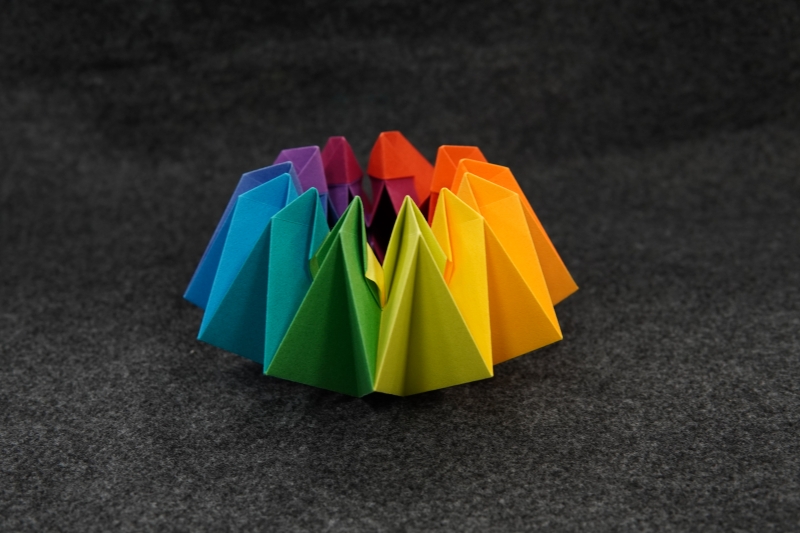 Cut, Fold, Roll: Making Art with Paper
Apr 30, 2022 - Nov 6, 2022
---
Join us for a Celebratory Reception on Thursday, June 16, 2022 from 4:30-7:30 p.m.
Space is limited. RSVP required.
---
Paper is more than something you write an adventure on.
It is more than the doodles drawn on every inch.
Paper is art.
By changing the shape of a sheet of paper, artists can create all sorts of designs: from delicate flowers to imposing dragons.
Paper art traditions can be found in many cultures and communities around the world, from Mexico to Japan to Italy.
Learn about the sharp cuts of a papel picado banner, the many folds of an origami flower, and the flowing swirls of a quilled artwork in Cut, Fold, Roll: Making Art with Paper.
Cut, Fold, Roll explores paper art traditions that use nothing more than paper to create beautiful designs and images, spanning from the types of techniques and folds to the design process behind them.
Featuring the works of Master Quiller Anita Muzzi, mixed media and papel picado artist Mara Odette, and origami artist Braedon Sidor; Cut, Fold, Roll encourages you to recognize the artistic possibilities found in a sheet of paper.
This exhibition is curated by Niagara University course AHM357A: Exhibiting Cultures, a hands-on introduction to developing museum exhibitions about traditional culture.
Professor: Edward Y. J. Millar
Student Curators: Stephanie Chandler, Tailor Choquette, Jordyn Fisher, Emily Grant, Mikaela Prygon, Eden Ruh, Abigail Sapecky
Cut, Fold, Roll: Making Art with Paper is made possible in part through the New York State Council on the Arts with the support of the Office of the Governor and the New York State Legislature and Niagara University.