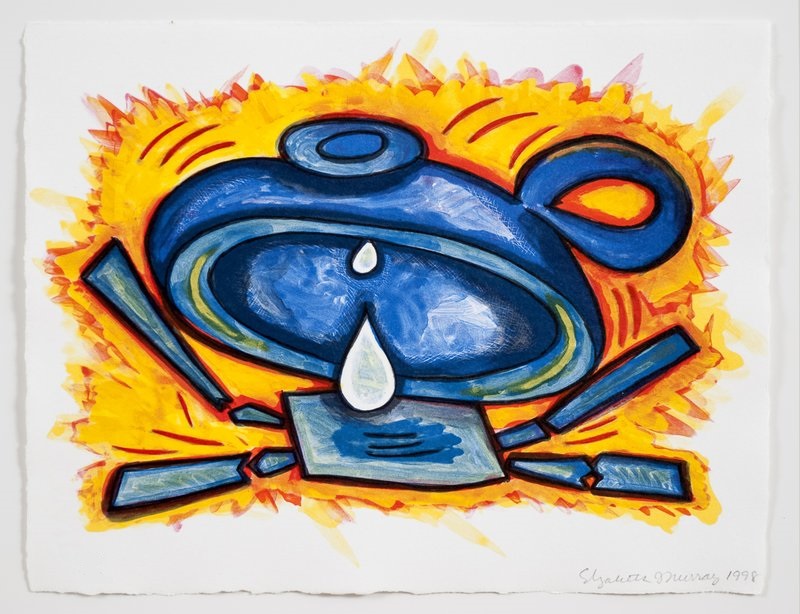 Elizabeth Murray, Charlotte (Poetry Project Print), 1998, eight-color lithograph, edition 23/90. Promised Bequest Gift of Dr. Gerald C. Mead, Jr.
Passion and Patronage: Gifts from the Gerald Mead Collection
Jul 1, 2022 - Dec 16, 2022
The role of patrons in supporting the arts is paramount to building strong creative communities. This exhibition emphasizes the process by which "private" artworks eventually become "public," a component of building museum collections.
For 25 years, Buffalo art collector Dr. Gerald C. Mead Jr. donated artwork to the Castellani Art Museum (CAM), in some cases, purchasing work for the Museum to bridge collection gaps. These gifts included works by renowned artists such as John Baldessari, Beverly Pepper, and Jenny Holzer.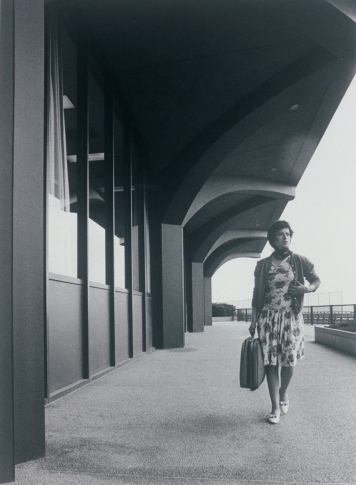 Passion and Patronage features Mead's previous collection gifts as well as his promised bequest of 54 works by 43 artists. The works in this new gift were selected from Mead's significant collection for their alignment with the CAM's collection and mission. This marks the first major gift made from Mead's collection to a public institution.
Mead, described by the Buffalo News as "a guiding and indispensable figure on the Western New York arts scene," was influenced by prominent collectors and art museum patrons including Armand and Eleanor Castellani, Seymour Knox, and Charles Rand Penney. Through visits to museums and galleries, Mead fortified his understanding of art as well as his familiarity with artists whose work builds our own regional art history. Collecting for thirty-five years, he actively lends and donates to public institutions, inspiring new patrons.
This generous gift expands the CAM collection in two significant ways. It adds works by artists not currently represented in the Museum, such as Laylah Ali, Cory Arcangel, and Wendell Castle. It also adds works by artists in the CAM's collection, including Nancy Dwyer, Elizabeth Murray, and Cindy Sherman, to better illustrate their careers. Mead has also endowed the Gerald C. Mead, Jr. Scholarship in Art History with Museum Studies, creating arts pathways for new generations.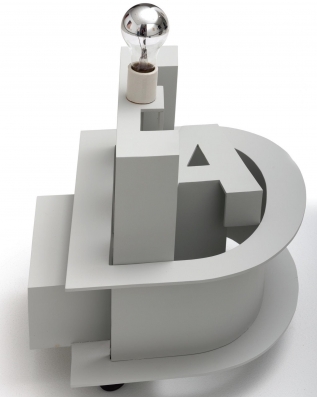 Mead's passion for art and his enduring patronage of the Castellani Art Museum and Niagara University demonstrate an individual's ability to impact this important area of study.
The Passion and Patronage Gifts from the Gerald Mead Collection exhibition is accompanied by a fully illustrated catalog with an essay by John Massier, the Visual Arts Curator at Hallwalls Contemporary Arts Center, and contributions by current and former Castellani Art Museum staff.
Click here for a digital copy of the exhibition catalog.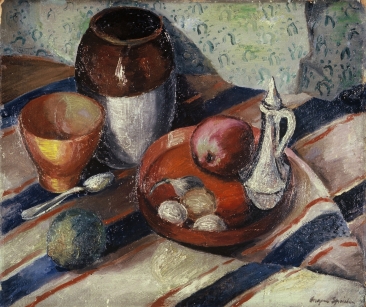 ---
Featured Artists
Laylah Ali
Cory Arcangel
John Baldessari
Brendan Bannon
Roberley Bell
Jake Berthot
Diane Bertolo
Harvey Breverman
Charles Burchfield
Philip Burke
Lawrence Calcagno
Ellen Carey
Wendell Castle
Charles Clough
Alan Cober
Ralston Crawford
Allan D'Arcangelo
Edwin Dickinson
Nancy Dwyer
Marion Faller
Alexis Jean Fournier
Hollis Frampton
Jenny Holzer
Josh Iguchi
Jed Jackson
G. Peter Jemison
Sister Mary Corita Kent
Les Krims
Bruce Kurland
Justine Kurland
Robert Longo
Magda Cordell McHale
Gerald Mead
Coni Minneci
Julian Montague
Elizabeth Murray
Albert Paley
Beverly Pepper
Ken Price
Ad Reinhardt
Milton Rogovin
Susan Rothenberg
Christy Rupp
Kathy Schifano
Paul Sharits
Cindy Sherman
Eugene Speicher
Doug and Mike Starn
Marie Thibaudeau
Phyllis Thompson
Martha Visser't Hooft
Carson Waterman
---
Image Credits
Cindy Sherman, Untitled (Under the WTC), 1980/2001, gelatin silver print, edition 80/100. Promised Bequest Gift of Dr. Gerald C. Mead, Jr.
Nancy Dwyer, Bright Idea, 1991, painted aluminum with lightbulb fixture, light bulb and caster wheels, edition 5/40. Promised Bequest Gift of Dr. Gerald C. Mead, Jr.
Eugene Speicher, Still Life, n.d., oil on board. Promised Bequest Gift of Dr. Gerald C. Mead, Jr.

---
Thank You to our Sponsors