About the Castellani Art Museum and Founders
"In our little family store, I learned that people are everything"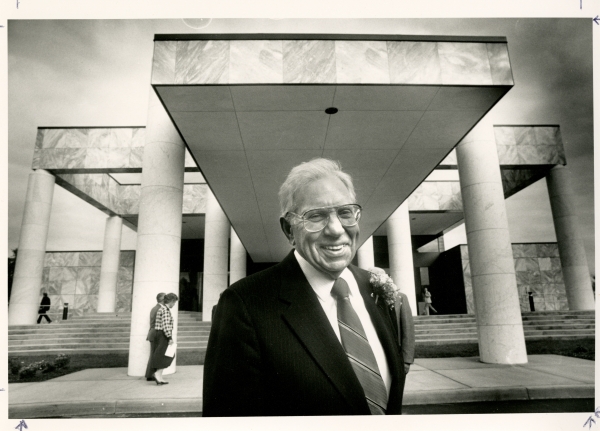 Armand J. Castellani (1917-2002) was born in Giuliano di Roma, a small village east of Rome, Italy. When Armand was four years old his family immigrated to the United States and settled in Niagara Falls, when his father opened a small grocery store in the city's north end.
Armand took over the family business after completing his army service in 1945, expanding the grocery store into a multi-million-dollar conglomerate that would include TOPS Friendly Markets, Wilson Farms, and the B-Kwik convenience stores. Together with his wife Eleanor (1919-2008), the Castellani's raised twelve children and became known in Western New York and beyond for their deep commitment to philanthropy and community service.
A passion for art was sparked by a trip to Italy in 1956 where Armand was exposed to the works of fourteenth-century Florentine artist, Giotto. Soon after he began reading art books, visiting museums and galleries, and building an art collection of his own. Eventually, Armand and Eleanor's collection grew to more than 3,000 artworks. They began to look for a way to share it with local communities that had supported their family business through the years.
Working with Niagara University and a number of other major donors, Armand and Eleanor opened the Castellani Art Museum in 1990, originally founded as the Buscaglia-Castellani Gallery in 1978, as an accessible center of arts education for both the campus community and Western New York; and as a place of teaching and learning for all who pass through it's doors.
Thanks to our many generous donors, the museum is home to an ever-growing world class collection of over 5,500 artworks representing the major artistic trends in modern and contemporary art, local folk arts traditions, and Niagara Falls related works.
Together with Armand, Eleanor, and the Castellani family, we welcome you to explore and be inspired by the beautiful artworks in our galleries.
"If you have enthusiasm, you can do anything…"
The Castellani Art Museum was designed by architect Thomas Moscati (1936-2015), architect who founded TRM Architect firm in 1977. The building was dedicated and officially opened to the public on September 22, 1990.
The Museum makes an important aesthetic contribution to Niagara University's main campus. The building is faced with beautiful white-gray marble imported from Italy. Twelve massive pillars frame the approach through exterior and interior sculpture court, and seven individual galleries branch off the majestic twenty-foot high central exhibition hall. The facility houses nine galleries, offices, conference room, storage and preparation areas, and studio and classroom space for the University's Fine Arts program.