Folk arts are creative practices rooted in tradition and a sense of group identity. Because folk arts are created by and for a particular group of people, they reflect the unique history, values, interests, and aesthetics of that group.
Established in the early 1990s, the Folk Arts Program of the Castellani Art Museum of Niagara University collaborates with local communities and artists in preserving and presenting their traditional arts to a wider audience.
As the only full-time Folk Arts Program in the Greater Buffalo-Niagara Region, our work:
Recognizes the artistic contributions of the region's many diverse peoples
Promotes a better appreciation and understanding of cultural differences
Calls attention to the cultural resources that give our region its unique character
Helps preserve our region's cultural heritage for future generations
Our program's three major activities are: Fieldwork, Exhibitions, and Programming.
Our research and documentation are ongoing. If you'd like to share information about folk traditions in your family or community, please contact Edward Y. Millar, Curator of Folk Arts, 716-286-8290, emillar@niagara.edu.
Past folklorists who led the program include Kate Koperski (founder), Claire Aubrey, Carrie Hertz, and Valerie Walawender.
The museum's Folk Arts Program is made possible through the New York State Council on the Arts with the support of Governor Andrew M. Cuomo and the New York State Legislature.
Top Background: Linda Davis, Turkish Floor, 2015, cotton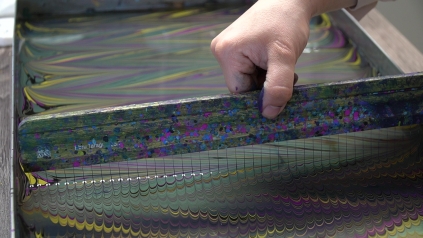 Fieldwork is the first-hand documentation and observation of cultural knowledge, expressive traditions, and community life through audio interviews, photographs, and video recordings.
As a Folk Arts Program, fieldwork is the foundation of our work. While our special focus is on folk art, we also document other expressions of traditional culture in area communities: everything from foodways to occupational traditions, and from vernacular architecture to traditional music.
Conducting fieldwork helps preserve and celebrate the diverse expressive cultural traditions practiced in the Greater Buffalo-Niagara Region.
Through fieldwork we collaborate with traditional artists, community members, and other bearers of traditional knowledge to preserve a record of their cultural heritage: both within their community and for a wider audience.
The Folk Arts Program at the Castellani Art Museum of Niagara University develops bi-annual folk arts exhibits, featuring traditional artistic expressions of culture in the Greater Buffalo-Niagara Region. As the only museum in the area that is dedicated to featuring local folk arts, the museum raises awareness of underrepresented traditions – many being exhibited in a local museum for the first time.
Each exhibit is developed in collaboration with the featured artists and communities – from the fieldwork phase through to its design and installation. This collaboration enables artists and community members to reflect on and share their knowledge about the tradition, and what they feel others should know about it. Exhibitions may focus on one folk artist, multiple artists within the same tradition, or related folk art traditions from various communities.
Past folk arts exhibits have covered a breadth of traditions and themes, including: Tuscarora raised beadwork, quilting, ritual food customs, vernacular architecture, occupational folklife, calligraphy, and more.
In addition to exhibitions, the Folk Arts Program organizes and develops programming through collaborations with folk artists and community members.
Ranging from small, hands-on workshops to large traditional music or dance performances, programming provides an opportunity for visitors to learn more about the diverse cultural traditions practiced in the area, directly from those who practice it.
Past workshops have included Tuscarora beadwork, wycinanki (Polish paper cutting), ebru (Turkish paper marbling), and shodo (Japanese calligraphy) workshops, while previous traditional music and dance performances have included traditions from local Balkan, Vietnamese, Chinese, Burmese, and Turkish communities.