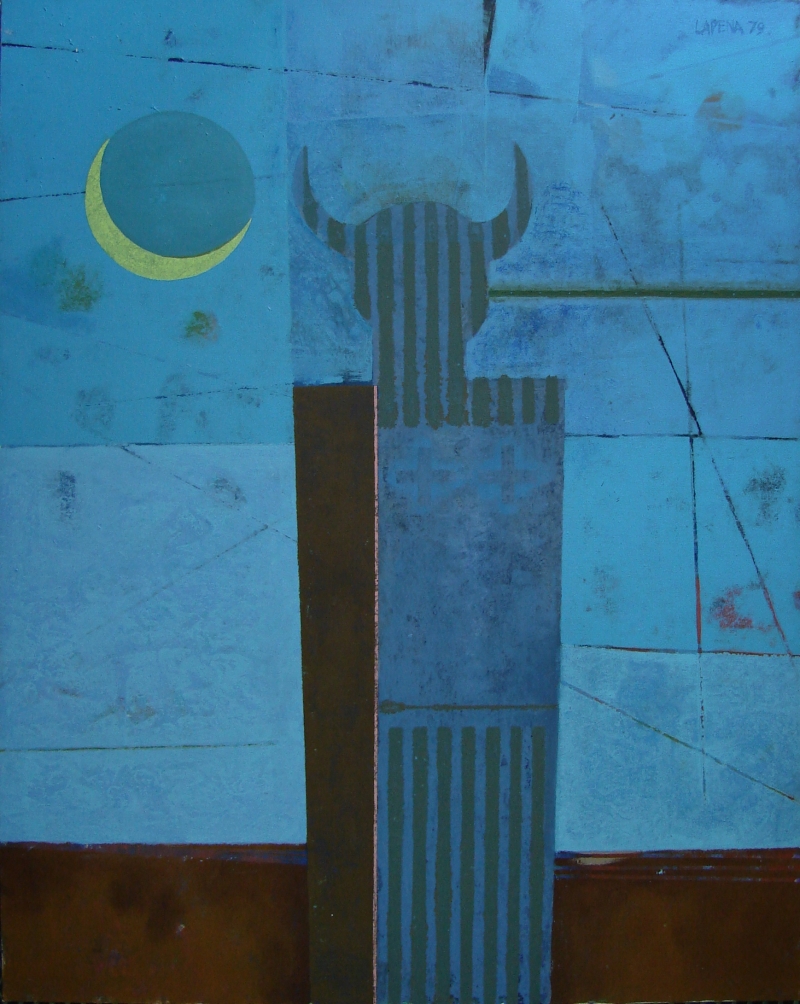 © Frank LaPena, 1979, from the Collection of the Castellani Art Museum of Niagara University
Frank La Pena was a Nomtipom Wintu of Northern California. His heritage and native culture were a driving force in his art, poetry, scholarly research and central to his teaching. As an ethnographic consultant, he had a major influence on the many museums at which he consulted on art and Native American Indian affairs. He was a seminal figure and anchor in the California Native American cultural revival that began in the 1960's. Imprinted with his heritage and ethnic culture, much of La Pena's work was focused on ancestral legends, symbols, dream interpretation, and ceremonial traditions. His work symbolizes his culture's difficult past, emerging prominence, as well as its quest for social justice.
La Pena's painting Horned Spirit captures the symbolism of the dream world—the new moon of hope and the horns of the spirit world. The calm stature of the sentinel figure belies the power and potential of its spirit. In Horned Spirit, he portrays a sacred world embodying both dreams of protection and menace. Sacred objects and locals are a focus in his art work and writings. To the artist, Mt. Shasta is a holy location in northern California. Of his long experience staying on the mountain, La Pena writes of Mt. Shasta, "There is no forgetting an experience where all the senses are allowed to be played with and logic is not the answer." To look at and see his work is to experience a sense of dreaming, to get a glimpse into a sacred time and place where wonder and meaning abounds.