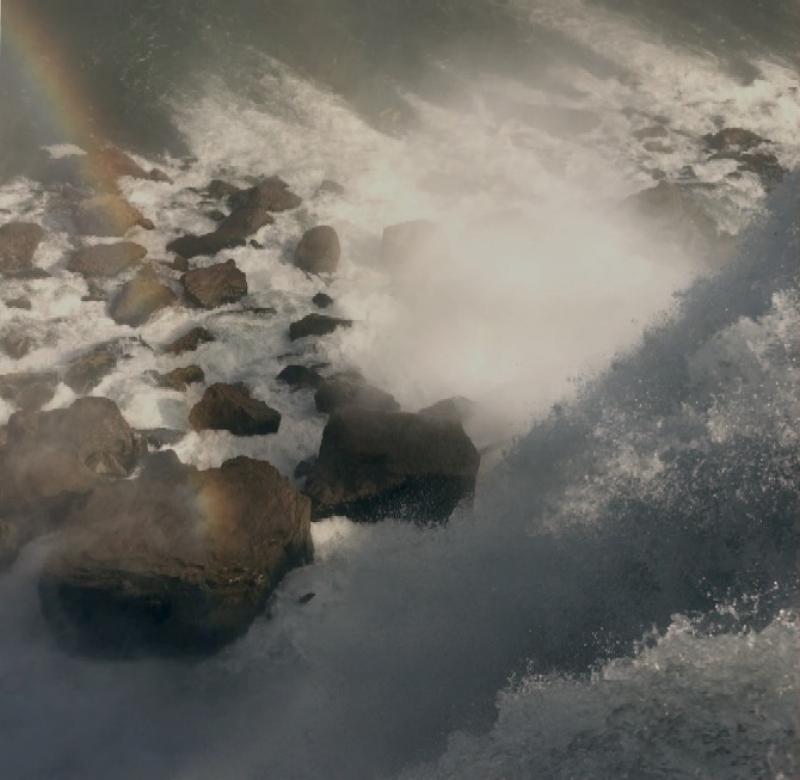 © Estate of John Pfahl, 1985, from the Collection of the Castellani Art Museum of Niagara University. No reproduction without the permission of the owner.
Rainbow in the American Falls from Luna Island, 1985
John Pfahl —
---
In 1982, the Castellani Art Museum of Niagara University accepted an etching portfolio by artist Amos W. Sangster (1833-1903) entitled The Niagara River and Falls from Lake Erie to Lake Ontario. A gift from the Bethlehem Steel Corporation of Lackawanna, New York, this monumental portfolio contains fifty full-plate etchings, 103 vignettes, and a 36,000 word commentary on the history of the Niagara Frontier by James Warner Ward. A Niagara Falls-based committee, formed to help research and publicize the Sangster portfolio, decided to commission an internationally renowned photographer to create a contemporary series of landscape photographs that would closely parallel Sangster's etchings of the entire span of the Niagara River. The committee publicized this intention and received a wide variety of proposals from a number of photographers. They eventually decided to entrust the project to photographer John Pfahl, who had long been investigating 19th century pictorial conventions in such exquisite landscape portfolios as Power Places (1983), Picture Windows (1981), Altered Landscapes (1976), and other works. With a grant from the Visual Artists Program of the New York State Council on the Arts, the Castellani Art Museum commissioned Pfahl to photograph the river over a period of nine months during 1985-86. Pfahl attempted to use the working methods of Amos Sangster as closely as possible, spending many days hiking along the Niagara River, finding his vantage points, and, most important, approaching his subject with the same reverent appreciation of the Niagara scene and painterly aesthetic evinced by Sangster. The photographs that result are serenely picturesque vistas, incorporating a sense of the awesome and sublime that belongs to Pfahl's own, uniquely spiritual attitude toward nature. Fifty-two horizontal Kodak Ektacolor color-coupler prints were produced.