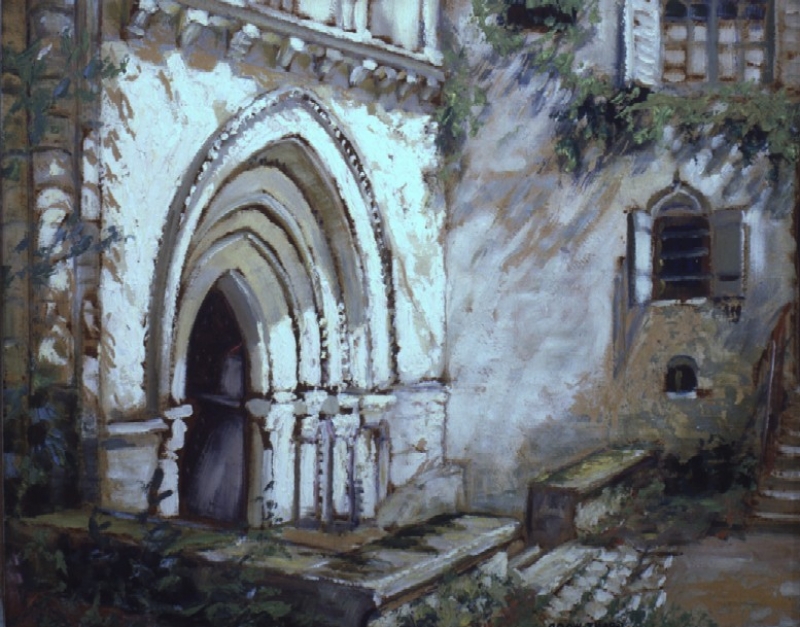 © Figge Art Museum, successors to the Estate of Nan Wood Graham / Licensed by VAGA at Artists Rights Society (ARS), New York
Vieux Portail de L'eglise Monacale, 1926
Grant Wood —
---
American artist Grant Wood is perhaps best known for his iconic 1930 painting American Gothic, whichfeatures a farmer, pitchfork in hand, and his solemn wife posing in front of a Gothic Revival home in Eldon, Iowa.
In 1932, Wood became director of the Public Works Art Project, a subsidiary of the National Works Progress Administration, in Iowa. He was also a Professor of Fine Arts at the University of Iowa in Iowa City.
Wood once commented that he "had to go to France to appreciate Iowa." After several trips abroad, in 1923 the artist enrolled in the Academie Julian in Paris but was determined to make his life in Iowa. "All the really good ideas I ever had, "he said, "came to me while I was milking a cow." Vieux portail de L'Eglise Monacale was most likely painted during one his trips to France. Records illustrate a number of similar works created during an extended stay in Périgneux, a small town in central France dating back to the early 1400s.
Former CAM Director, Sandra H. Olsen, noted in the publication The Armand and Eleanor Castellani Collection-Art for the Public Eye, that this was the first artwork Armand Castellani purchased at auction from Sotheby's in New York.