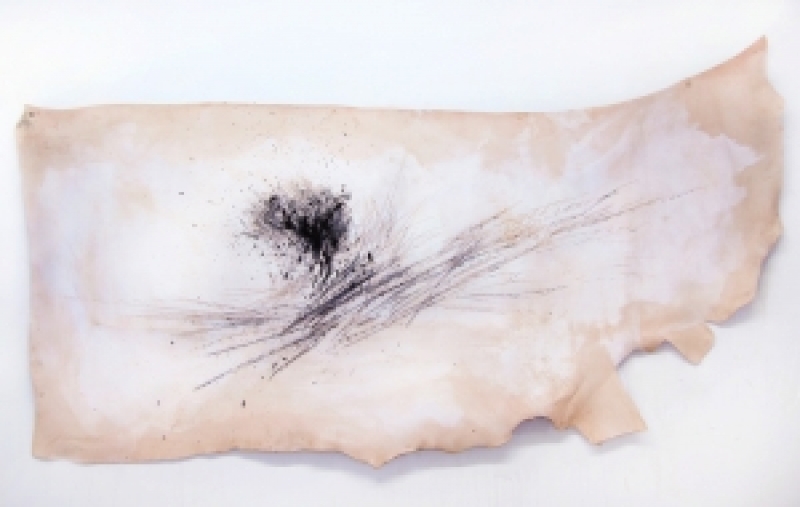 Amanda Wachob, Whipshade 4, tattoo on leather
Amanda Wachob: Exploring the Black Line
Jun 6, 2010 - Sep 19, 2010
The TopSpin Series of solo exhibitions by emerging regional artists continued in 2010 with an exhibition by Buffalo artist Amanda Wachob.
In this series of work, Wachob investigates the untapped possibilities of the tattoo medium, dissolving the line between fine art and body art. Wachob says, "In tattooing, every design traditionally begins with a black line. One could say that it is the skeleton which holds the body of a tattoo together. It is the goal of the tattoo artist to insert as solid and as controlled a line as possible. By using a rotary tattoo machine, I wanted to take the idea of the clean black line and bend its potential by doing the opposite – to render spontaneous gestural marks. It is within the unrestrained gaps of the lines where passing moments are visible and it is where I feel that the pieces begin to take pause and breathe."
Amanda Wachob began her tattoo apprenticeship in 1998 after she graduated from Purchase College with a degree in Photography. She has tattooed musicians, lawyers, doctors, construction workers, veterinarians, strippers, students, art dealers, mothers, fathers, sisters, brothers and lovers. She feels blessed by the varied stories, experiences and struggles she has heard, had and endured over the last twelve years in the industry. Wachob divides her time between Buffalo, NY and the Lower East Side of New York City.