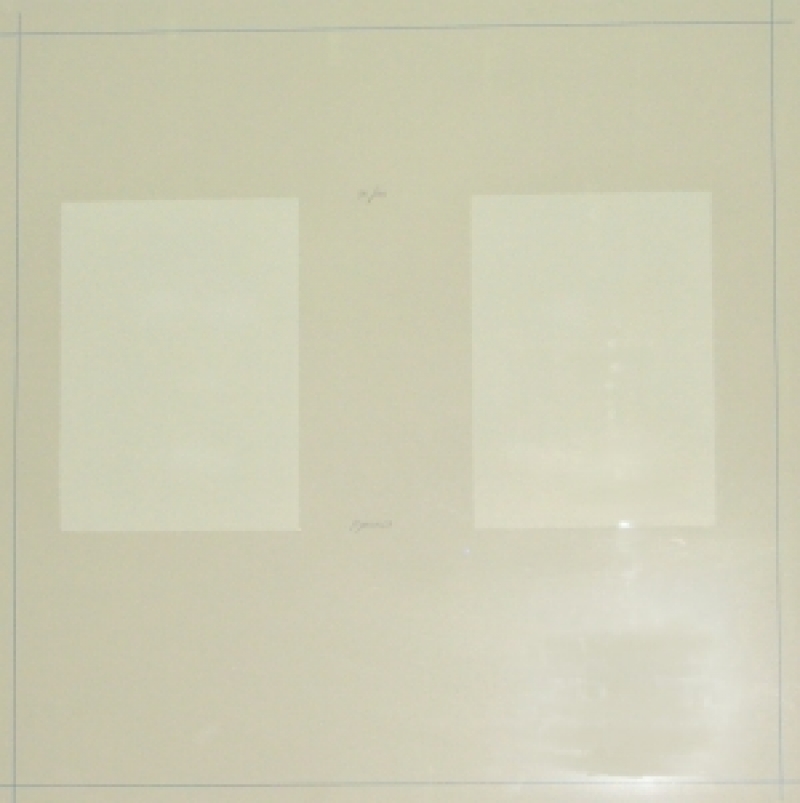 Robert Ryman, b. 1930 American. Untitled, from the On the Bowery portfolio, 1969-71. Screenprint. Castellani Art Museum of Niagara University Collection, Gift of Marie and Thomas O'Donnell.
ART: THE LANGUAGE OF LESS
Feb 12, 2012 - Jul 22, 2012
This exhibition was presented in partnership with Niagara University Theatre production of Yasmina Reza's award winning play "ART," on stage February 16–19, 2012 in the Castellani Art Museum's central gallery. The museum and Theatre Department collaborate annually to bring museum and theater audiences together through a unique fusion of artworks from the permanent collection and performances by Niagara University Theatre students.
Art: The Language of Less was designed to complement "ART." Although the play offers superficial and perhaps dismissive ideas about what minimal art embodies, it is important to understand the validity and historical importance of Minimalism, which emerged as a movement in the 1950s and was cultivated well into the 1970s. Minimalism embodied the act of simplifying art forms to their primary elements often resulting in an impersonal and austere, non-objective work of art. Generally void of any gestural markings, Minimalist artworks are more about cerebral reflection and the thought provoking resonance of the works. This lack of significant detail or imagery is likely the cause of certain viewers' uncertainly and perhaps disinterest in engaging with the works.
The exhibition, Art: The Language of Less, was not just about Minimalism. Beyond the selected works by Minimalists Robert Ryman (b. 1930), Joel Shapiro (b. 1941) and Sol Lewitt (1928-2007), it included a variety of artists' work that offer great visual impact with only minimal information, thus the exhibition subtitle, "less is more." Whether it's a simplified abstract form, as in the work by Max Bill (1908-1994), lines that delineate shape by Louis Lane (b. 1948) or even images created by variations in the thickness or density of paper as in Barbara Bloom's (b. 1951) Watermark Papers from 1988; examples from these artists have been included because their work, which is not necessarily formulaic Minimalism, is, in my opinion, inclusive of a minimalist aesthetic. All of the artworks in the exhibition are also, of course, primarily white, which also reflects, ultimately, the artwork central to the premise of the play. These artists, in their attempt to expose the very essence of meaning, often leave the viewer challenged, bewildered and sometimes even offended. In superficially simplistic terms, each work is one step from nothingness. But, in fact, it is not "nothingness" devoid of meaning in the cerebral sense, but more elusive and thought provoking than representational works.
The union of "ART," the play and the exhibition, offers theater goers and museum visitors an opportunity to explore the sometimes disconcerting power of Minimalism through both the visual expression and the spoken word. Whether official followers of the Minimalist movement or artists whose work I have chosen for their minimalist aesthetic, each speaks to the complex and broad artistic language of less.