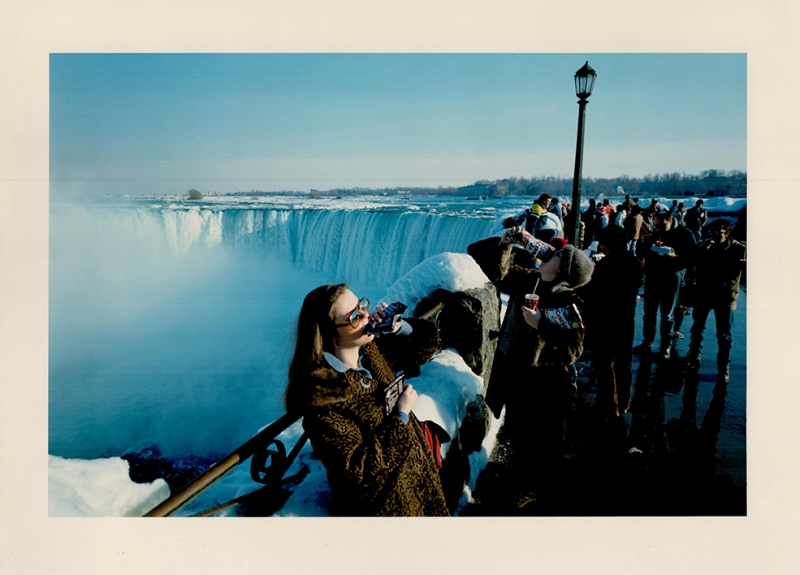 Untitled, 1982, Biff Henrich, Ektacolor chromogenic color print, Purchased from the Artist, 1987
Artists View the Falls: 300 Years of Niagara Falls Imagery
Jun 12, 2021 - Mar 27, 2022
The Castellani Art Museum's collection of Niagara Falls themed artwork offers audiences endless interpretations of the majestic Niagara Falls with works dating from the 17th century to modern-day representations. In addition to the Charles Rand Penney History Niagara Falls Print Collection, one of the largest and most significant collections of Niagara Falls historical works, CAM's Niagara Falls collection is comprised of a wide range of media including books, paintings, photographs, prints, and sculptures.
Artists View the Falls: 300 Years of Niagara Falls Imagery features works dating from 1698 to 2013. These works, by international, American and Western New York artists, reflect, through the artists' eyes, the historical and cultural changes that have taken place at the Falls over the past 300 years. This exhibition brings together a wide-range of artistic interpretations and illustrates the continued significance of Niagara Falls and, most importantly, how artists express those changes through their work.
This exhibition features a newly conserved CAM collection painting of Niagara Falls. The conservation of this work was made possible by the NYSCA/GHHN Conservation Treatment Grant Program administered by Greater Hudson Heritage Network with public funds from the New York State Council on the Arts. Created c. 1875, this painting is a wonderfully detailed example of the structures that surrounded the Falls on both sides of the United States and Canadian borders. Landscape architect Frederick Law Olmsted recognized that the sweeping vistas of the Falls were becoming more and more obstructed, and with other concerned citizens, he established the 1885 Niagara Falls Reservation (now Niagara Falls State Park), and likewise the Niagara Parks Commission (now Queen Victoria Park) in Niagara Falls, Ontario, was established by like-minded Canadian citizens in 1887. This painting marks a pivotal time when private development at the immediate edge of Niagara Falls and River would be restricted and public green spaces were established for the enjoyment of visitors from around the world.
For an online preview of this exhibition, go to our collection tab above, and enter 300 in the keyword field.