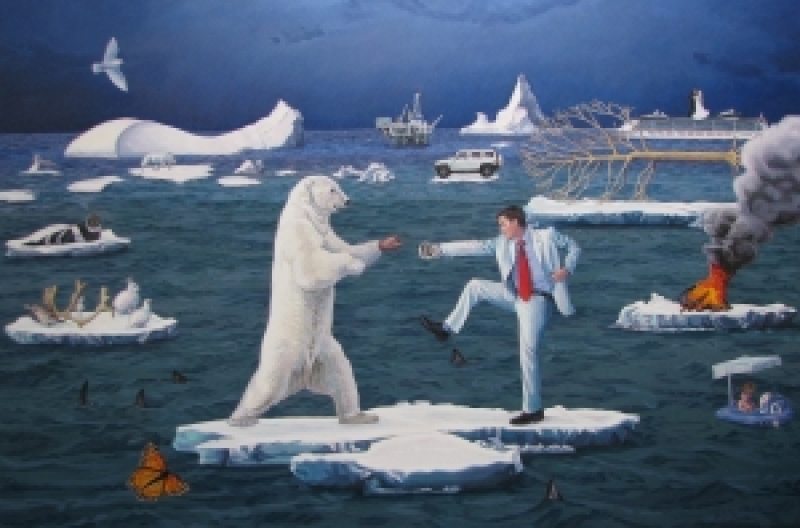 Betsy Potter, Polar Bear and Man, 2009, oil on canvas, 40 x 60 in.
Betsy Potter: Breaking Nature
Feb 5, 2012 - Jul 1, 2012
The Castellani Art Museum of Niagara University's TopSpin Series of exhibitions for emerging regional artists continued with Betsy Potter: Breaking Nature, which opened with a reception on Sunday, February 5, 2012 from 2:00 – 4:00 p.m. The artist will give a talk about the work in the exhibition, which ran through July 1, 2012. The TopSpin series was sponsored by Tops Friendly Markets.
For Betsy Potter, a native Western New Yorker, the survival of the natural world is paramount. The works featured in Breaking Nature illustrate the complex relationship between humankind and the environment. Potter says her paintings "…are about the fight between mankind and nature…a war is going on," Her paintings are staging grounds for tales that express nature's vulnerability, fragility and battle for survival in the face of industrialization. Potter explains that her richly detailed paintings are created though "free-associations with a concept of emotion, ritual or natural force that each element represents."
In the late 1980s, Potter spent summers volunteering with on the New York Natural Heritage Program, helping to find and catalog rare and endangered plant species in upstate New York. These experiences were the impetus for her poem Wilderness as well as many of the works featured in Betsy Potter: Breaking Nature. Her work is a synthesis of location, industrial invasion, corporate waste and the apparent submission of nature. Potter's paintings communicate both the fragility and resilience of nature, and its uncertain future.
Betsy Potter is an artist, poet and naturalist. She has been painting and drawing for thirty years. She has studied drawing, painting and printmaking at New York State University at Buffalo; Niagara County Community College, Sanborn, NY; and New York State University at Empire State College, Saratoga Springs, NY. She has taught seminars in landscape painting and drawing for the Niagara Society of Artists and has demonstrated various media techniques such as cast plaster, printmaking, egg tempera painting and textured acrylic painting for diverse artists groups and at regional arts education events.