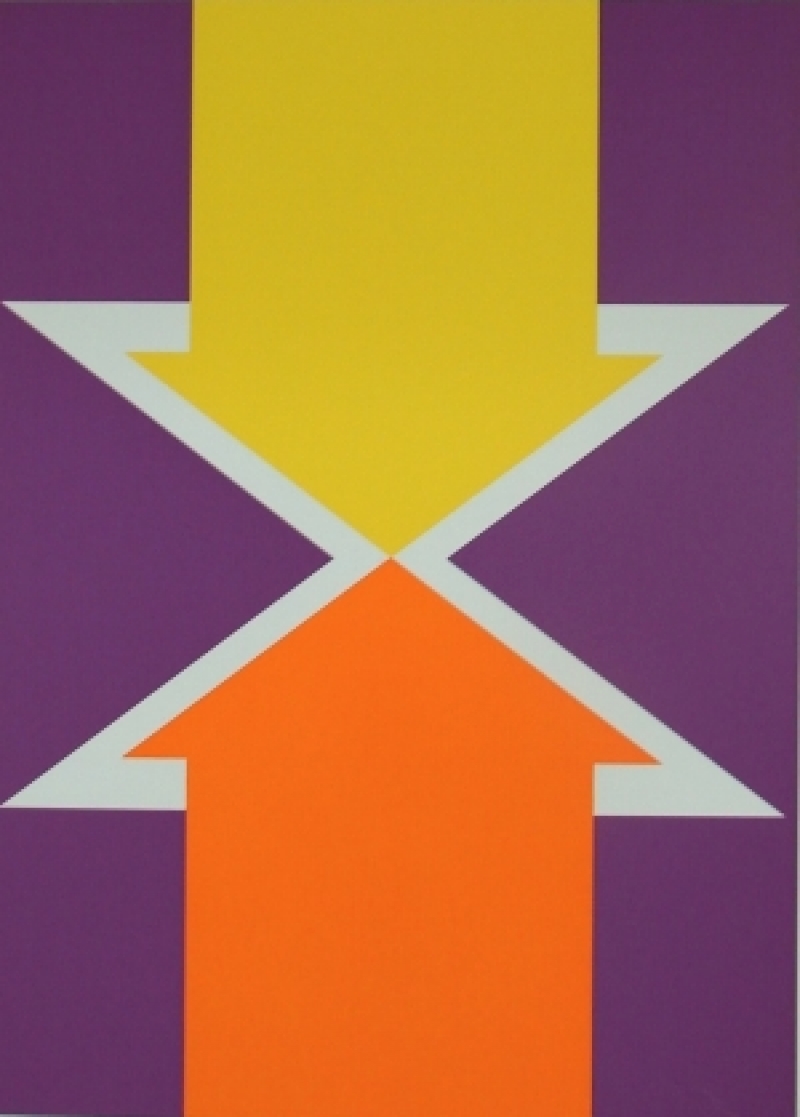 The Apex of Being from the Arrows Portfolio, c. 1970, serigraph, 26 x 20 in., Gift of Mr. & Mrs. Ken Carey.
Betty Gold: Edge, Color, Movement
Mar 13, 2011 - Sep 11, 2011
Betty Gold's sculptures grace public and private spaces all over the world. Her creative works include a diverse range of media; this exhibition features a selection of her geometric serigraphs. These works are from three portfolios produced in California in the early 1970s "Arrows," "Holistic Images" and "Surprise Packages." Also featured is the recently acquired welded steel mono-chromed sculpture Majestad II (2004-2005), a promised gift of Mr. and Mrs. David Chatkin, of Turtle Creek, PA. This vivid blue work provides a stunning outdoor focal point for the north-west corner of the museum entrance.
Gold's use of brilliant color and strong directional shapes are signatures of the work that has earned her a place among the world's most reputable artists. The serigraphs featured in this exhibition accentuate the bold, graphic style that Gold is known for and they reflect her interest in form, motion and space. She is a strident believer in the geometric concept and says, "It never becomes tiresome, as I continue to find new ways in which to express its truth and universality. Every new project is like the first—challenging, fulfilling and exciting."
Her large outdoor steel sculptures are angular and sharp without sacrificing a sense of movement and liveliness. With her surfaces finished with rich mono-chromed color or left raw to rust to a velvety patina, the bold simplicity of her geometric work is beautifully suited for display in open public spaces. Gold's sculptures occupy predominate locals at sculpture parks, university campuses and city centers such as Baylor University, TX; City de Bratislava, Slovakia; City of Palo Alto, CA; Duke University Medical Center, NC; Fitzgerald's Park, Ireland; Hartwood Acre Park, PA; Northern Illinois University, IL; Purdue University, IN; The Ronald Reagan California State Building, CA; Virginia Commonwealth University, VA and the Walker Hill Art Center, Soul, South Korea.
Dividing her time between Venice, California and Palma de Mallorca, Spain; Gold has traveled extensively, studying and lecturing around the world. Her work has been collected and widely exhibited at museums and galleries across the United States, Europe, South America and Asia.
Gold was born in 1935 in Austin, Texas, and attended the University of Texas at Austin. Pursuing a major in elementary education and a minor in art history, after graduating she apprenticed with sculptor Octavio Medillan in Dallas, Texas. Medillan (1907-1999) was a renowned sculptor, educator and founder of the Medellin School of Sculpture in Mendocino, California where he taught students in a variety of sculptural media.
Gold was honored with a major retrospective exhibition at the Casal Solleric Museum in Palma, Spain. Betty Gold—35 Years of Sculpture filled ten rooms of the historic castle. Her exhibition in 2005 was followed with shows featuring the work of Columbian artist Fernando Botero (b. 1932) and Mexican painter Frida Kahlo de Rivera (1907 -1954).
Recent international exhibitions were also mounted at the United States Embassy Invitational in Merida, Mexico; the Biennale in Vancouver, British Columbia, Canada; and three exhibitions in California at the University of California Art Museum, Santa Barbara, The Buschlenmowatt Gallery, Palm Desert, and The Santa Barbara Museum of Art.
Major museums housing her work include The Albuquerque Museum of Art, NM; Art Museum of South Texas, TX; Birmingham Museum of Art, AL; Civica Galleria d' Arte moderna, Gallarate, Italy; Georgia Museum of Art, AL; Hawaii State Foundation of the Arts, HI; Indianapolis Museum of Art, IN; Museo Nacional Centro de Arte Reina, Madrid, Spain; New Orleans Museum of Art, LA; New York University, NY; The Oakland Museum, CA and the Palm Springs Desert Museum, CA.