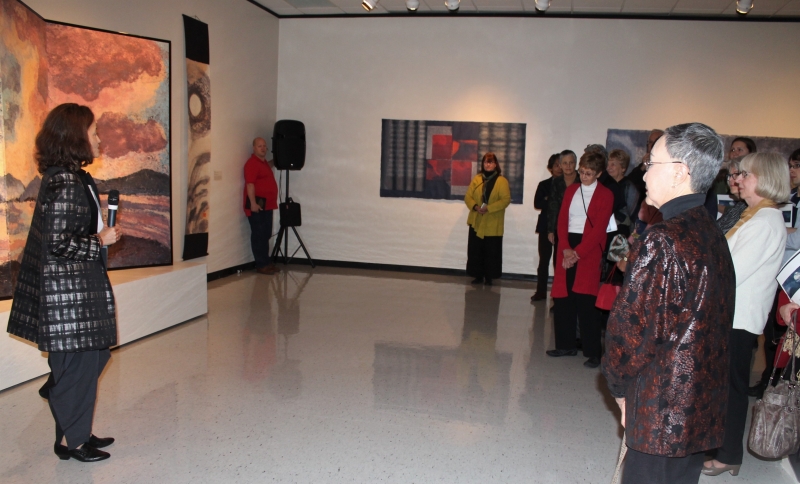 Sarah Brayer at the exhibit opening for Between Two Worlds, 2014
Between Two Worlds: Poured Paperworks by Sarah Brayer
Jul 20, 2014 - Dec 21, 2014
Sarah Brayer, a Rochester-born artist living in Kyoto since the 1980s, makes large-scale, handmade paperworks as the only Westerner working in the 800 year old papermaking village of Echizen. The wall panels, screens, and scrolls that she produces using paper pulp evoke themes common to traditional Japanese arts—abstracted visions of landscape, ocean, and celestial scenes. Lately, Sarah has incorporated photo-luminescent pigments that glow in fading light. By combining her training in both Eastern and Western artistic styles, Sarah says her "task is to find new ways of expression in an age old tradition" known in Japan as "washi."
Split between two mirror-image galleries, Between Two Worlds explores Sarah's geographic and artistic journey. In a "daylight" gallery, visitors learn about the traditional process of creating washi artworks, as well as Sarah's unique contributions to Japan's papermaking community, for which she has been honored with the prestigious "Commissioner's Award" by the country's Minister of Culture. In a "nighttime" gallery devoted to Sarah's luminescent works, visitors are invited to enter a meditative space enhanced by music and lighting that transitions slowly from bright to dark.
Click here for a digital copy of the exhibit catalog.
This exhibition was made possible in part through the New York State Council on the Arts with the support of Governor Andrew M. Cuomo and the New York State Legislature, SATO (739 Elmwood Ave, Buffalo, NY), and the Japanese Culture Center of Western New York.