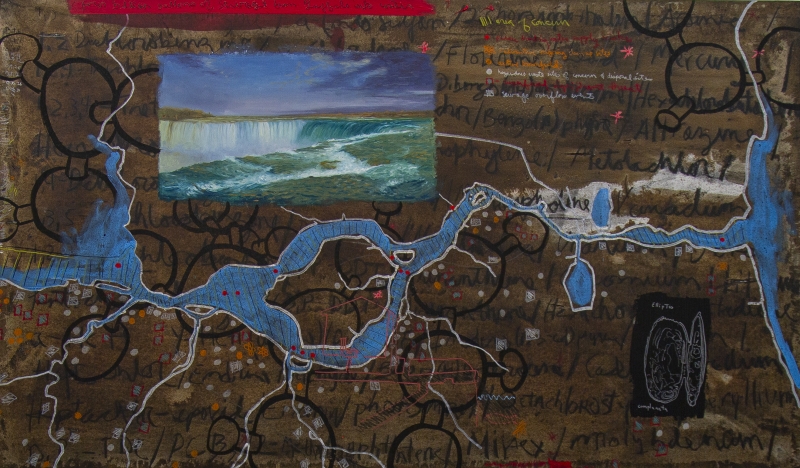 Biological Regionalism: Water of the Niagara River, 2022. 42 x 72 inches. Niagara River water, walnut ink, oils, acrylic, marker, pastels, gouache, and charcoal on Lanaquarelle paper on board. All works in the exhibition are courtesy of the artist.
Biological Regionalism: Niagara River, Western New York by Alberto Rey
Apr 20, 2023 - Feb 25, 2024
---
"It is crucial to inform the public on the importance of our region in America's cultural and natural heritage and the challenges that the Niagara River faces." Alberto Rey

Biological Regionalism: Niagara River, Western New York by Alberto Rey explores the complexities of the Niagara River's past and present. Using lushly illustrated narratives, Rey capitalizes on his distinctive visual language to speak to the importance of the Niagara in American popular culture and how that has changed over time. These large-scale paintings reflect on the river's historical significance to the Underground Railroad and to Native American culture, along with the pollution of the river and the communities along its banks.
Rey's Biological Regionalism is representative of his 40-year artistic journey documenting human relationships to natural waterways and how these relationships have a direct effect on the flora and fauna across the globe. Building on past, present, and future, this work is guided through what he has termed, "a devotional painting approach."
For this large-scale installation in the CAM's Main Gallery, Rey turns his attention to the Niagara River and the unique attributes of the Niagara Gorge. Each bespoke painting explores facets of the Niagara River's rich history and challenges it faces, past and present.
This exhibition follows the trajectory of projects including Critical Endangered Palms of Cuba (2021-22), a project that explored the endangered native palm species of Cuba; Biological Regionalism: Oswego River and Lake Ontario (2019-2022), which examined the history of the Oswego River, its challenges, and the prospects for improvement in the future; and The Lost Beauty: Iceberg Series (2021), an investigation into the disappearing glacial patterns around the Icelandic region.
He also has a major exhibition on view at the Vermont Arts Center titled Alberto Rey: Cultural Landscapes, through June 25, featuring the Battenkill River project, which includes large-scale paintings, drawings, notes, photographs, and Rey's work showcasing his Cuban heritage and bicultural identity. Learn more.
Read about and RSVP for our opening reception on April 20.

This exhibition is made possible through the New York State Council on the Arts with the support of the Office of the Governor and the New York State Legislature.