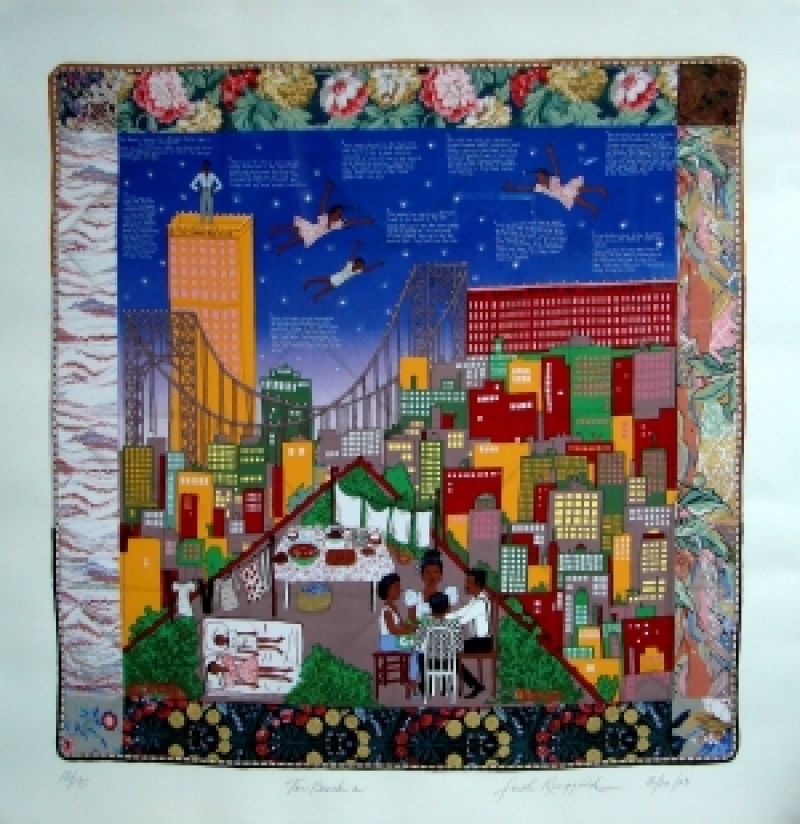 Faith Ringgold, Tar Beach, 2003, silkscreen.Castellani Art Museum of Niagara University Collection, gift of the artist.
Black Artists from the Permanent Collection: Exploring Personal Expression
Dec 12, 2010 - Jun 5, 2011
The Castellani Art Museum presented a selection of works from the permanent collection in conjunction with the Niagara Arts and Cultural Center's African American Art Exhibition: Celebrating Black History Month.
Art in all of its various forms is an expression of an artist's personal vision, whether to describe the visual world, record historic events, communicate a story or idea, or to explore new ways of seeing through an exploration of form, color, materials and the functions of art.
The personal vision for several of the artists in this exhibition was to draw on aspects of the black experience in America through narrative and figurative work, for example Ringgold, Saar, and Bearden. Others took a more formalist approach, examining Modernist concepts and working either in the style of pure geometric abstraction, Loving, for example, or in the more active styles of abstract and lyrical expressionism, including Martin, Basquiat, and Gilliam. Cooper combines both abstraction and narrative.
What unites them all, however, is how Modernism informs their work. Each artist incorporates ideas and artistic styles that show the influence of the revolutionary changes in the visual arts that developed in the early 20th century as a reaction to traditional forms of art, and continued well into the 1970s. Whether the challenge for these artists was to choose a formalistic calling over figurative work at a time when artists were being challenged to focus on the black experience or to risk a literal interpretation of the work's meaning by displaying more symbolic and expressive tendencies, the works in this exhibition display a number of modernist tendencies by artists with a personal vision as varied as their artistic styles.