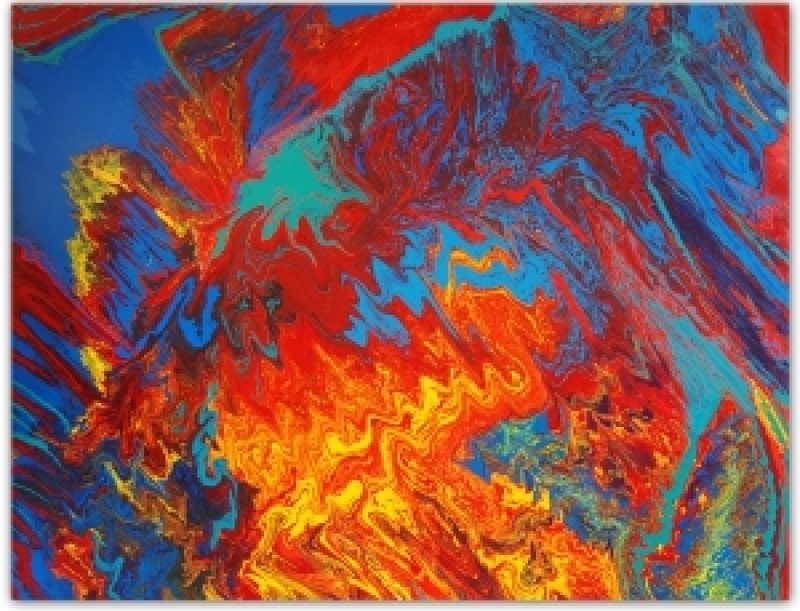 Dale Threlkeld, Soul Sashay, 2006, oil on canvas, 80 x 101 inches.
Dale Threlkeld: End of Illusion
Jul 13, 2014 - Jan 4, 2015
Dale Threlkeld is an American artist whose lineage goes back generations to the earliest days of this nation. His early years were spent in the mid-west on farms and racetracks. His father had been a jockey and made a living later training and racing thoroughbreds. Threlkeld rode horses long before riding a bicycle. He was the first in his family to go to college, worked in a college cafe for meals and taught horseback riding at summer camps in Wisconsin and Pennsylvania. Threlkeld graduated from college with a degree in art just in time to be drafted by the military. He joined a week before his draft notice, served a year in Vietnam from 1967 to 1968 and was decorated for service with a Bronze Star, having attained the rank of staff sergeant. With the G.I. Bill, he was able to be discharged from the army in 1969 and earn a Master of Arts in Drawing from Ball State University in 1970. That same year he began exhibiting his drawings and paintings in national competitions while teaching on the college level.
Threlkeld first traveled to New York City as a guest of Pratt Institute in 1974; he walked the streets with a large portfolio of drawings and was selected to exhibit his work, over the next few years, at Gimpel & Weitzenhoffer, Genesis and Frank Marino galleries in New York, NY. Rounding out those critical years, in 1976 the artist embarked on an important trip to Europe to see for himself what he had studied.
Most of the works Threlkeld exhibited early in his career were works on paper but a "breakthrough moment" occurred in the early 1990s, leading to the signature painting style he is known for today. In 2006, he was selected to be guest artist at The Dogwood Festival in Dowagiac, MI, which led to a major exhibition at The Krasl Art Center, Saint Joseph, MI and The Artist Project, Art Chicago, IL in 2008. These projects were followed by solo exhibitions at Craig Smith Gallery in Harbert, MI; Evan Lurie Gallery, Carmel, IN; Aspen Art Gallery, Aspen, CO; The Schmidt Art Center, Belleville, IL and, in 2012, The Hatheway Art Center on the campus of Lewis & Clark College, Godfrey, IL. Receiving critical acclaim, Threlkeld's paintings have also been exhibited at Art Hamptons, Southampton, NY; Art Palm Beach, FL and Red Dot at Art Miami, FL. A cinematic tour of his exhibiton at The Hatheway Art Center, Godfrey, IL is available at www.vimeo.com.
Dale Threlkeld was our honored guest at the Castellani Art Museum Gala Illumination on Saturday, October 18, 2014.
Concurrent with Threlkeld's exhibition at the Castellani Art Museum of Niagara University, the artist's work was also featured at Gallery 464 located at 464 Amherst Street, Buffalo, NY, in an exhibition entitled Dale Threlkeld: End of Illusion—Rendezvous (August 21 - September 2, 2014).