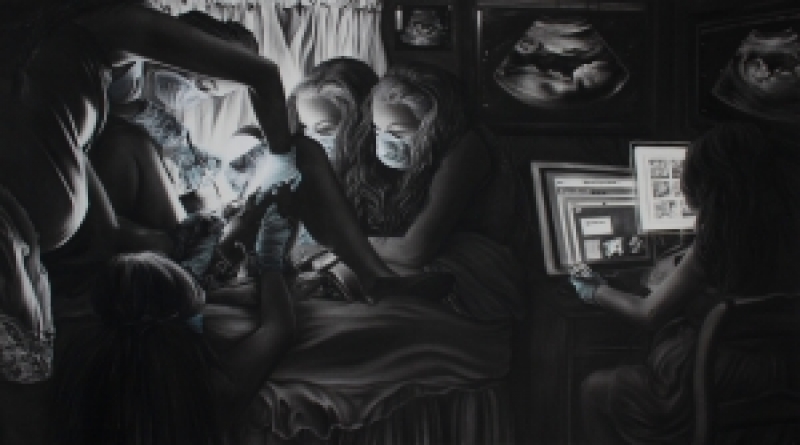 The Annunciation, 2013, charcoal and soft pastel on Paper, 60 x 102 in.
Elizabeth Lillian LaBarge: Surgery of the Spectacle
May 18, 2014 - Aug 24, 2014
The exhibition title is a riff off of Guy Debord's 1967 book entitled The Society of the Spectacle. The spectacle can be defined as a visually striking performance, display, or collection of images. Debord theorizes that the spectacle, when combined with advanced capitalism and mass media, can result not as a collection of images, but rather a social relationship between people mediated by images. In Elizabeth Lillian LaBarge: Surgery of the Spectacle, I hoped to simultaneously engage in a critique of contemporary and historical spectacles through the use of "détournement" (the integration of present or past artistic productions into a superior construction of a milieu) by recreating "spectacular images" to disrupt the flow of these spectacles.
LaBarge's drawings are constructed through the combination of well-known art historical, religious, and contemporary narratives that permeate our lives through mass media. She says, "I hope to expose the spectacle by creating dramatized, 'over the top' theatrical scenes that address psychosocial power dynamics and the image of woman as spectacle. How has the woman become spectacle and how does she respond? Through my work, I am performing little 'surgeries of the spectacle' in order to expose, contemplate, and subvert the woman's place within contemporary and historical spectacles. While surgery implies corrective measures, I hope not only to reflect reactive responses to the spectacle, but also to provide proactive reconstructions of the woman as spectacle.
"My work examines specific attempts to control feminine corporeality. For example, Lamaze from 2013, specifically attempts to reveal the hospital's attempts to control maternal corporeality. This piece strives to question the C-section rate that is rapidly rising in American culture. If the hospital can convince a woman to schedule a C-section out of convenience, the hospital ultimately makes more money. Originally, the caesarean section was developed as an emergency procedure and is slowly developing into a popular birthing method. While many C-sections are used to save lives, these scheduled C-sections can be dangerous to the health of the Mother and particularly harmful to the development of the fetus."
Liza LaBarge was born in Potsdam, NY in 1990. She received a Bachelor of Fine Arts with a minor in Creative Arts Therapy from the State University of New York at Potsdam in 2012. Her large-scale charcoal drawings are constructed through observational realism in conjunction with surrealism. The work focuses primarily on issues surrounding femininity while incorporating art historical references and psychoanalysis to depict highly dramatized theatrical scenes. LaBarge is currently completing her education, with a 2014 Master of Fine Arts degree from the State University of New York at Buffalo, NY.