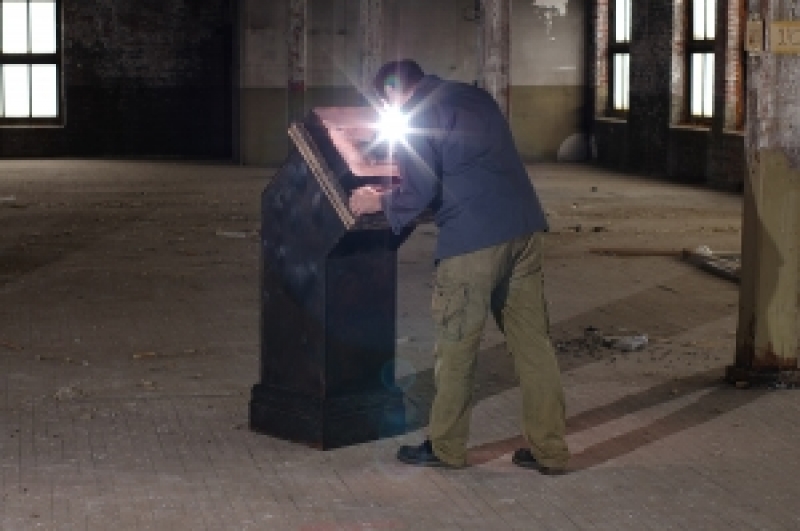 (site installation) SDI Periscope Flash Gaze 1, 2014, Image credits: Gordon Pellegrinetti.
Gary Sczerbaniewicz: High Strangeness
Jan 25, 2015 - May 3, 2015
Buffalo artist Gary Sczerbaniewicz's exhibition, High Strangeness, featured a series of seven small architectural vignettes housed within scorched periscope forms and a central terminal from which the periscopic vignettes emanate. The artist calls these studies 'incursions' as he views them as "spatial scenarios which have in some way been interlopers within my psyche, and through which I transfer to the psyche of the respective viewer."
The vignettes are displayed in periscopic stands and viewed through visor ports placed in the face of the stands. The language here is decidedly militaristic. The viewer is invited to glimpse the interior scenes-which are slightly distorted by glass lenses set within the visor-indicative that what they are viewing is not exactly truthful in its display-but contains a mixture of truth and distortion. There is also a necessity that the viewer cannot see what is revealed unless they are physically close to the peering site. Indeed this dialogue can only take place under specific intimate conditions. I am hopeful that the scenes may conjure some sense of 'imagined memory' within the viewer's consciousness.
Sczerbaniewicz says the body of work "grew directly out of research I was conducting during my fabrication of an installation entitled Tom Ridge. That piece dealt with the notion of Homeland Security in a psycho-geographical context. I have been, for many years, interested in the absurd concept that invisible dangers can be protected against by physical means (hence my interest in Fallout Shelters, Bunkers and Confessional Booths)."
The artist's practice involves an insatiable fascination with interior and often, uncanny architectural spaces such as tunnels, mineshafts, catacombs, fallout shelters, basements, crawlspaces, and myriad other forms of Subterranea. Drawing upon these marginal spatial subjects Sczerbaniewicz constructs intricate psycho-geographical vignettes-which excavate the latent historical, phenomenological, sociological or political strata inherent within their substrates.
Sczerbaniewicz's immersive installations employ scale shifts and theatrical or filmic stagecraft, while advocating for direct, physical, viewer insertion and multi-sensory engagement. Through this level of immersion, he seeks to disorient the viewer in an attempt to subvert the staid and often detached, passive and conventional approach to consuming artworks. The artist asserts that it is only in this hermetic space where authentic communication between artist and viewer occurs.
Sczerbaniewicz received his Bachelor of Fine Arts in Sculpture from the New York State College of Ceramics at Alfred University in 2009 and his Master of Fine Arts from the Department of Visual Studies at New York State University at Buffalo in 2013. He was recipient of the Jacob Kassay Master of Fine Arts Award (2013) and was a 2010 member of the New York Foundation on the Arts—Mark Program. He has recently completed a two-month residency at Sculpture Space in Utica, NY, where much of the installation entitled Tom Ridge was created. Sczerbaniewicz has recently joined the roster of talented artists represented by the BT&C Gallery in Buffalo, NY. He currently lives and works in Buffalo, NY.