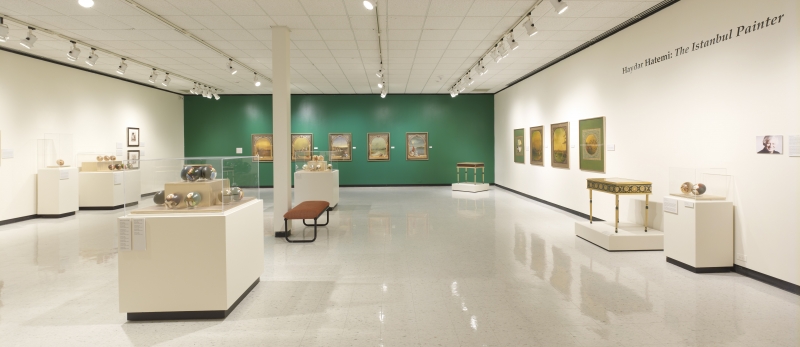 Haydar Hatemi: The Istanbul Painter installation photo, 2012
Haydar Hatemi: The Istanbul Painter
Jan 15, 2012 - May 27, 2012
---
Iranian-born artist Haydar Hatemi was trained in classical Persian miniature painting and gilded illumination in his home country. In 1983, he immigrated to Turkey where he was inspired by the cosmopolitanism and rich history of Istanbul. Taking the city as his subject, Hatemi creates artworks imagining Ottoman life and landscapes. "Istanbul is for me a very special city," he explains. "In Turkey, they know me as the 'Istanbul painter.'" Hatemi believes that the Ottoman Empire, and its past of peaceful coexistence, continues to enchant the countries of the Middle East. For more than a decade, Hatemi has filled the royal palace of Prince Al-Thani, the crown prince of Qatar, with commissioned works picturing the Ottoman capital in lavish detail. In addition to oil paintings and watercolors illustrating people and places from 18th century Istanbul, this exhibition features a series of painted tables and ostrich eggs depicting portraits of the Ottoman sultans as well as scenes of daily life in the palace and in the city.
Click here for a digital copy of the exhibit catalog.
This event is made possible with public funds from the New York State Council on the Arts, celebrating 50 years of building strong, creative communities in New York State's 62 counties.
Sponsored, in part, by the Turkish Cultural Center Buffalo. Special thanks to the Middle Eastern & Islamic Studies Program of Niagara University.