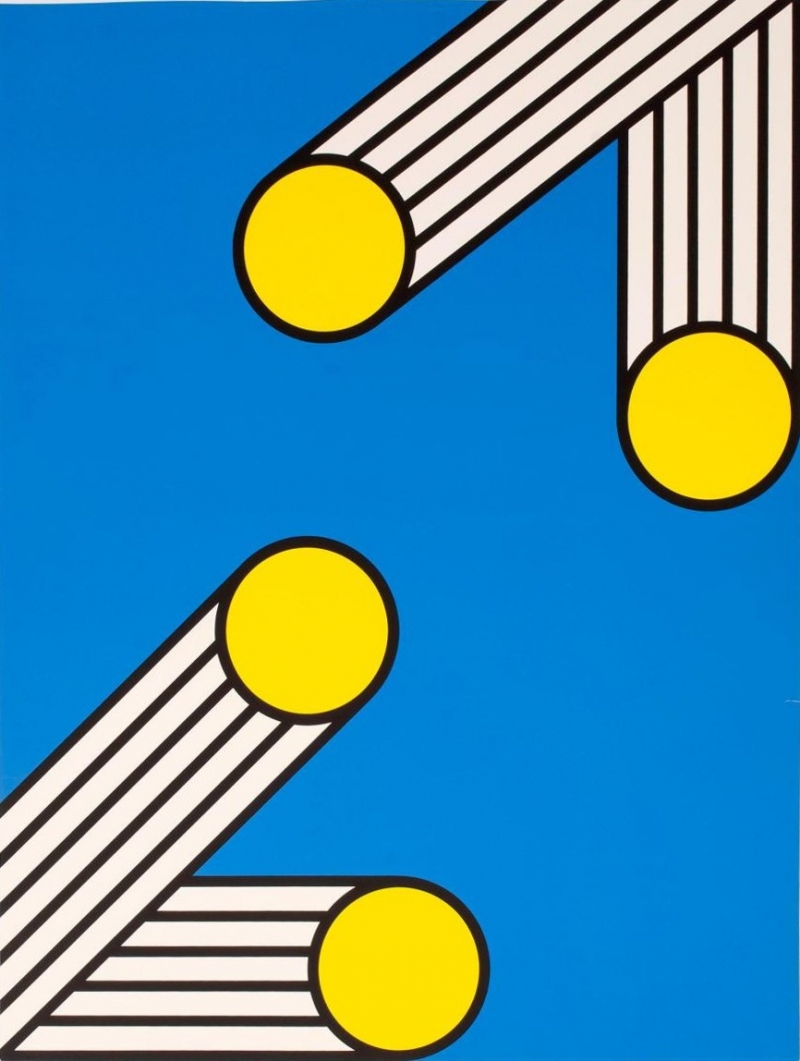 Nicholas Krushenick, Untitled from the Iron Butterfly portfolio, 1968, color screen print on rag content board stock, Collection of the Castellani Art Museum of Niagara University, Gift of the Castellani Family, 2019
Iron Butterfly & Gates to Times Square: The Chryssa and Nicholas Krushenick Portfolios
Mar 19, 2022 - Jun 5, 2022
American artist Nicholas Krushenick (1929-1999), was an accidental pioneer of the Pop Art Movement, merging the Pop Art esthetic with Abstraction, Cubism, and Color Field painting. This assimilation of contrasting artistic styles placed him outside of any specific school or movement of his time. In the early 1960s, he coined his signature style as "Pop Abstraction."
Krushenick's use of hyper Day-Glo colors and bold hard-edge black lines give his work a punch of adrenaline. These bold, optically bombastic works of art go beyond the visual: you can almost hear the undulations of the patterns and feel the heat resonating from the vibrancy of color.
Krushenick also had a love for wordplay and appropriation of language that inspired exhibition titles such as Electric Soup, Blazing Blazons, and The Jewel Thief. This portfolio, The Iron Butterfly Suite, was named after the 1960 rock band Iron Butterfly, best known for the song "In-A-Gadda-Da-Vida." Works in this portfolio echo the auditory power of the song (deafening bass, chopping keyboards, and the rhythmic thrashing of the drums) and the paradoxical concept of an iron butterfly, which counters our understanding of both terms.
The Castellani Art Museum is home to a significant number of portfolios by both individual artists and artist groups. This exhibition marks the first time both of these portfolios have been exhibited in their entirety.
Iron Butterfly & Gates to Times Square—the Chryssa and Nicholas Krushenick Portfolios exhibition was made possible by the New York State Council on the Arts with the support of the Office of the Governor and the New York State Legislature.
---
Chryssa (Chryssa Vardea-Mavromichali) (1933–2013), emigrated from Greece to the United States in 1954, settling in New York City in 1955. There, Chryssa first experienced the colossal billboards, glamourous building facades, bright lights, and the noisy discord of the construction equipment, horns, sirens, and street performers of Times Square.
"She was so taken with the lights that she tried to get a job as a sign maker but was prevented by labor union rules," wrote art historian Charlotte Rubinstein. Eventually an associate of the neon fabricators union offered to give her training.
Her early work incorporated commercial products, letters and numbers, and maps. This imagery became popular through later male artists that were associated with the Pop Art movement including, Jasper Johns, Robert Rauschenberg, James Rosenquist, and Andy Warhol, even though Chryssa was a pioneer of this subject material.
Chryssa is regarded as one of the first, if not the very first, artist to use neon lighting as an artistic medium. In 1962 she created Times Square Sky, her first sculpture to integrate neon lighting. This was around the same time that French artist Martial Raysse was also experimenting with neon, and a few years before Dan Flavin and Nam June Paik began their own neon experiments. The artist continued to develop new versions of Times Square Sky including The Gates to Times Square (1966) housed in the Albright-Knox Art Gallery collection in Buffalo, New York.
The Gates to Times Square portfolio echoes the artist's three-dimensional work with its brightly colored linear neon elements, reflect her interest in Chinese calligraphy and fascination with the letters "A" and "W". Through color, pattern, and repetition, her works evoke diverse emotions such as anger, fear, joy, or sadness. Evading full disclosure of her inspirations, Chryssa stated in an interview, "I have always felt that when things are spelled out they mean less, and when fragmented they mean more."