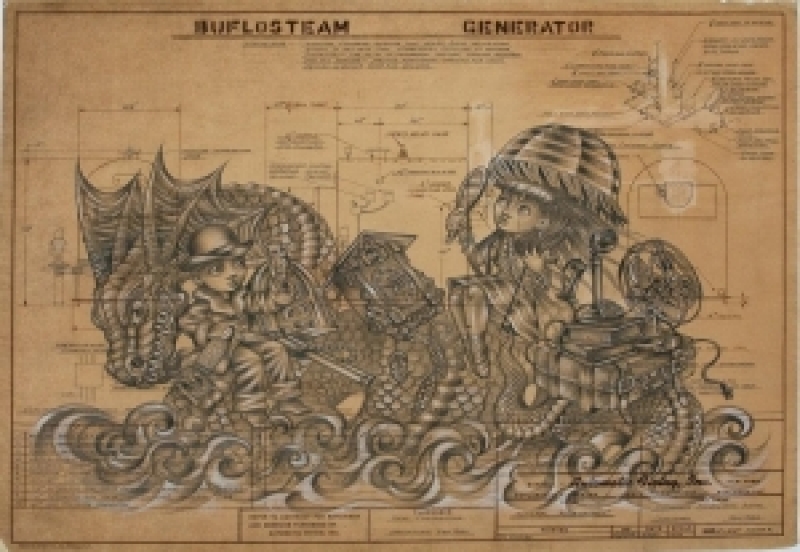 Picnic, 2010, graphite on vintage blueprint paper, 17 x 22 inches.
Jason D'Aquino: Old Possum and the Fantasticals
Jun 5, 2011 - Sep 18, 2011
The work of Jason D'Aquino lies somewhere between the tongue-and-cheek humor of Richard Prince and the spooky complexity of Hieronymus Bosch. His explorations into the juxtaposition of antiquated printed materials and the pictorial effects of his, at times micro, illustrations are an open aperture into his personal desires and growing collection of oddities. D'Aquino's works are a fresh return to honesty in contemporary art, no matter how far down the shadowed path they may lead us.
Utilizing meticulously sharpened pencils and magnifying devices, D'Aquino creates precise graphite renderings on vintage paper he finds in out-of-the-way bookstores and antique shops. His work is wickedly humorous, gleefully gross and magically macabre. His images evoke the illustrations of Edward Gorey and Lemony Snicket (the pen name of American novelist Daniel Handler.) D'Aquino's work is strongly influenced by the shadowy-side of adolescence.
Many of D'Aquino's works are executed on matchbooks. "All works [matchbooks] are hand drawn and usually no larger than a 50-cent piece. No chicanery, no Photoshop—absolutely genuine!" explains Kristen Anderson in Read Leaf Publishers' book Jason D'Aquino's Circus ABC released in 2010. The matchbook holds nostalgia but carries with it something more. It is a disposable memento—a cheap souvenir from a good time, now past. Today, when most art is first encountered via a computer screen, the matchbook carries with it a built-in scale reference. No matter how, or in what format, you are viewing the piece you know in an instant that it is approximately one by one and a half inches in dimension.
The exhibition's title Old Possum and the Fantasticals was a curatorial nod to both D'Aquino's artistic influences as well as a reflection on the wonderment of his subversive visual judgments. Old Possum's Book of Practical Cats is a collection of whimsical poems by T. S. Eliot about feline psychology and sociology and was the basis for the musical Cats. The poems were first published in 1939 with subsequent editions that included illustrations by artists that inspire D'Aquino's own work including Nicolas Bentley and Edward Gorey. Fantasticals, referring to D'Aquino's visual revelry, is inspired by the "fantastical krews" at Mardi-Gras festivals who were responsible for float preparations and causing a general ruckus to bring the annual event to order.
Jason D'Aquino grew up in Long Island, New York and attended Purchase College in Westchester, NY where he received a degree in Visual Arts. After living in Kingston, NY, he has taken up residence in Buffalo, NY where he has been for the past six years at the time of this exhibit, working on his art and co-owning the Leviathan Tattoo Shop on Hertel Avenue in North Buffalo. His works have been featured in Juxtapoz, Hi-Fructose, Virus, Inked, Rue Morgue, Tatuaz and International Tattoo Art. His extraordinary drawings have appeared in numerous galleries and in influential collections across the United States, Europe and Asia.
TopSpin is a series of solo exhibitions by emerging regional artists, sponsored by Tops Friendly Markets.