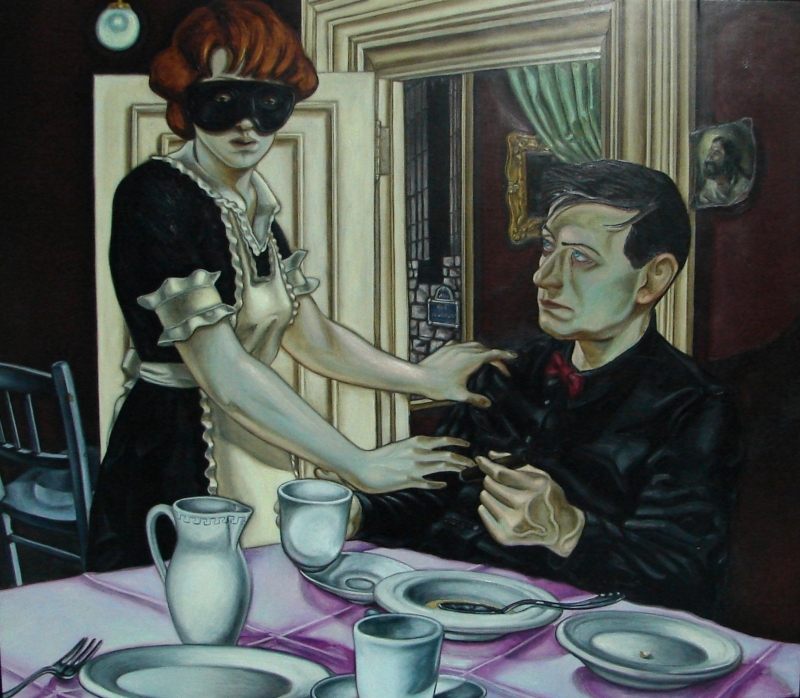 Jed Jackson, Courage Mon Ami le diable et mort (Courage my Friend the Devil and Death), 1987, oil on wood, 18 x 21 in. Castellani art Museum of Niagara University Collection,Gift of the Artist, 2009
JED': 30 Years of Paintings by Jed Jackson
Mar 15, 2009 - Sep 20, 2009
Jed Jackson's paintings are modern mythological allegories culled from his photographs, sketches, writings, and a myriad of commercial media. Inspiration is also derived from his particular blend of literary, musical, and big screen interests. Jackson's visual narratives reflect his cosmopolitan interest, opportunistic Bon-Vivant esthetic, and a genuine curiosity about social culture throughout the western world. His thirty-years of work, particularly the paintings featured in this exhibition, echos a non-linear novel where past, present, and future crisscross each other.
During his tenure in Buffalo, Jackson was active in the local art scene, including exhibitions at the Albright-Knox Art Gallery and Nina Freudenheim Gallery, and was a member of the board of Directors at Hallwalls. It was here, as Associate Professor and Chairman of the Humanities Department at Medaille College, that he befriended Robby Takac and George Tutuska, college students who were soon to form the Goo Goo Dolls.
Jackson's painting, Arkansas Sunset, (1980) a self portrait, was the cover of the Goo Goo Dolls first album, "JED." Arkansas Sunset will be included in the upcoming exhibition.
JED': 30 Years of Paintings by Jed Jackson was developed in conjunction with the 2009 Music is Art Festival hosted by Niagara University's Live Music Committee. The exhibition features works from collections in Buffalo, New York, the artist's studio in Memphis, Tennessee, and a private collection in Lonoke, Arkansas.