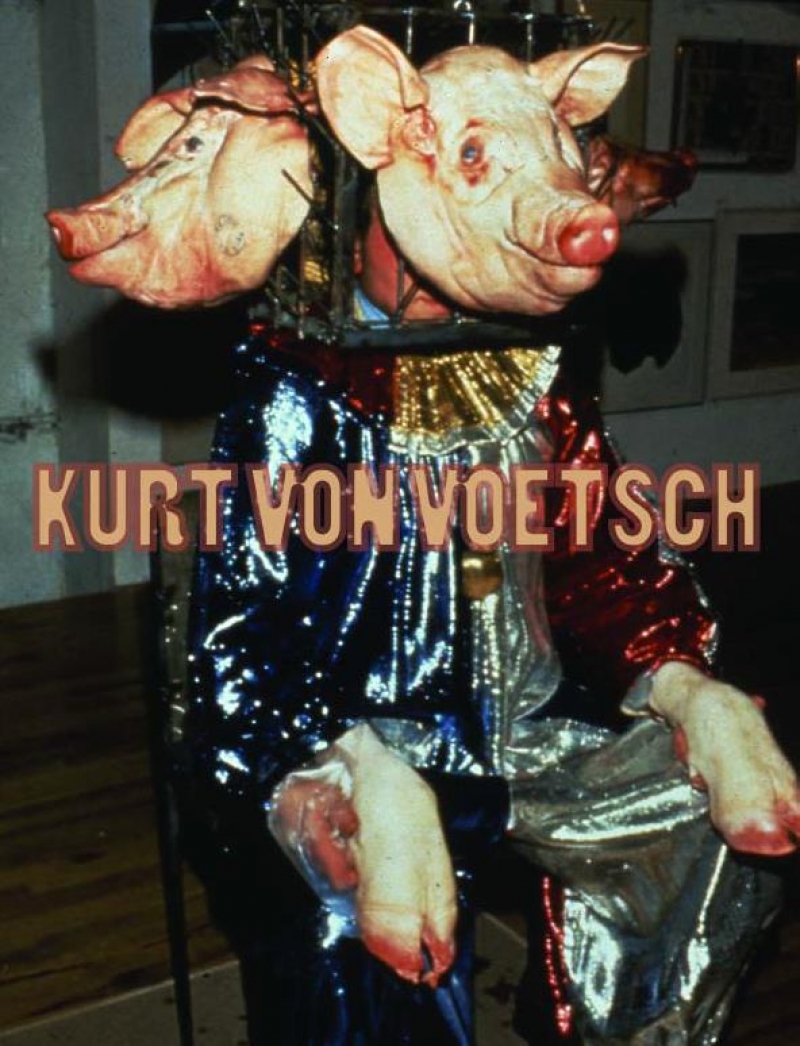 Kurt VonVoetsch: Self Portrait (detail), 1996, public performance with pig and cow elements.
Kurt Von Voetsch: From the Grave & Messbag Series
Feb 4, 2007 - Aug 19, 2007
From the Grave

The recent work of Kurt Von Voetsch, at the time of this exhibition, lay somewhere between the tongue-and-cheek humor of Richard Prince and the debauchery of Hieronymus Bosch. His explorations into the pictorial effects and textural remains of private grave stones and public monuments is spirited with an opening aperture into his personal demons. His works are a fresh return to honesty in contemporary art...no matter how far down the shadowed path the may lead us...
Messbag Series
Von Voetsch's new body of work chronicles his observations of a profound and deep-seated imbalance in today's younger generation. The artist sees a change from the ideal of individual betterment for the greater needs of society to the self-absorbed aggression of myopic behavior. As the artist explains: "Our society has absorbed and embraced the notion of more, more, more–faster, faster, faster." The title of these works, Messbag Series, alludes to a day of reckoning for our over-stimulated, over-saturated need to consume.
Michael J. Beam
Curator of Exhibitions and Collections
Castellani Art Museum
"A similar profile energy distinguishes the composite works of Von Voestch, who deploys drawing to seize a realization, insight of corporal truth. For him, drawing functions as an act of necessity, a means of visualizing his own body at various times under varied circumstances.These are muscular works, robust expressions conceived in charcoal and wax, yet they contain passages of great subtlety. Like his performances, the drawings are a means of acting out. In that capacity they document a creative mind in flux."
Douglas Dreishpoon
Senior Curator, Albright-Knox Art Gallery