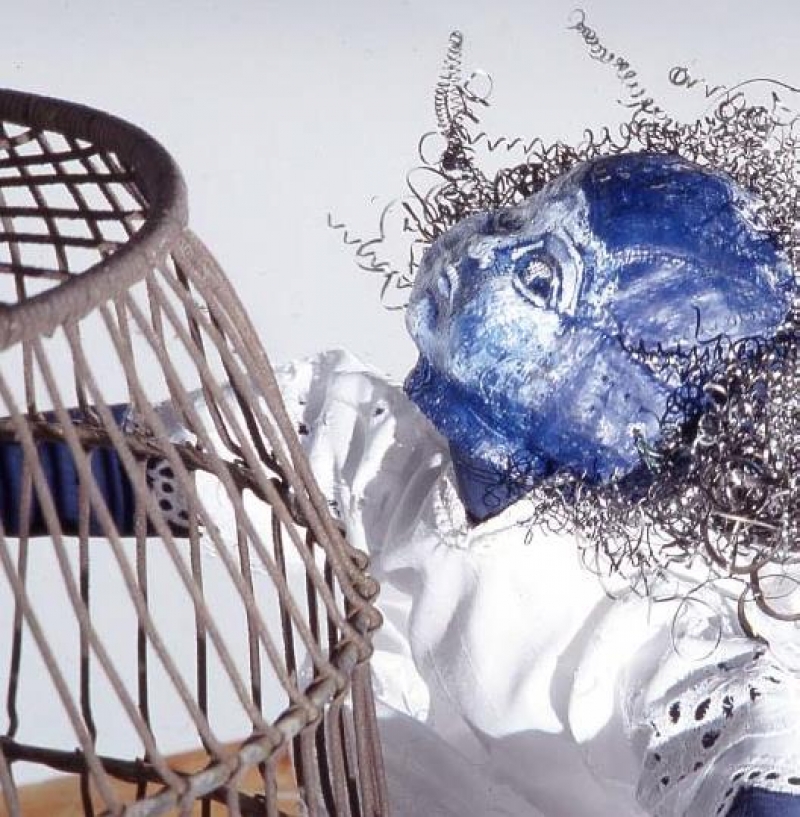 (detail) Birdseed Child, 2005, mixed media, found objects
Lillian Méndez: Lily's Funky Parade
Feb 3, 2006 - May 14, 2006
Combining the ancient "Pandora's Box" and her own interpretation of a family parade, like a modern-day alchemist, Lillian Méndez has created a pressure-cooker of imagination. The resulting explosion is a gallery experience well beyond the magnitude and scope of Méndez's previous artistic endeavors. Lily's Funky Parade was an adventurous collection of personal trials and tribulations, presented through articulated, hand-sculpted dolls. The dolls are presented in minutely detailed garments, each exuding its own expressive feeling—cheer, surprise, intuitiveness, or trepidation.
Méndez has transformed the TopSpin gallery into an interactive stage-set, with a large institutional door and frame billowing out from a single core. Viewers are invited to pass through a metaphoric "door" into the artist's life experiences. Each figure is at once racing in celebration of freedom but also trying to return to safety and anonymity behind the door. Through these sculpted memoirs, viewers are taken on a roller coaster ride through Méndez's societal and cultural identities.
Breaking all the rules, the artist candidly presented her personal history with blunt honesty, aware that she has placed herself in a vulnerable spot, with no safety net or veiled identity. Lily's Funky Parade is an autobiographical representation of Méndez's lifetime of family cultivation and nurturing. From past, present, and into the future, she released this parade of experiences in order to open a dialogue with the viewer about her personal artistic development. As the maestro of her parade, she would not have it any other way.
Michael J. Beam,
Curator of Exhibitions