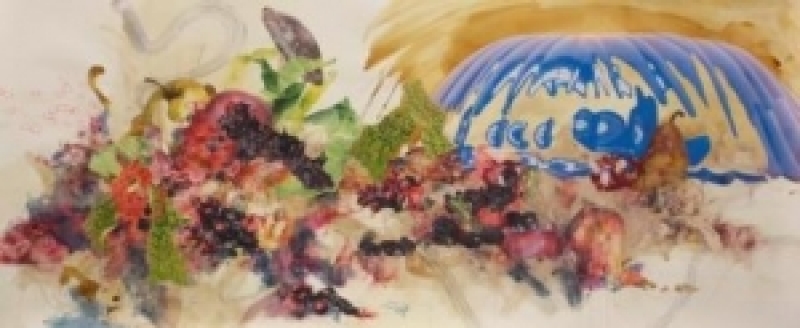 Garden of Blastomycodon, 2013, spinach dye, yellow beet dye, turmeric dye, pomegranate, cherries, digitally altered photographs, acetone photograph transfer, colored pencil, ink and graphite on paper, 36 x 82 in.
Mary Johnson: Generatione Nostra est Scriptor Minas (Our Generation's Menace)
May 5, 2013 - Aug 25, 2013
Johnson's subject matter is food: cantaloupes, apples, grapes, lettuce, strawberries, mushrooms and bone-in cuts of meat. Each work is a montage of detailed photographs, drawing, and transparent washes collaged in layered narratives of unstable energy. Through careful placement and editing, the resulting arrangements include stunning permutations of rich color, implied textures, sticky substances and translucent swabs of mottled colors left behind by organic materials in varying states of rot. She moves smoothly between the mediums of drawing, organic pigmentation and mechanical reproduction. Her coloration is often subtle, based on the look of traditional organic dyes, a reminder that the brightest colors in nature will eventually fade as decay sets in and progresses.
Johnson states, "I use food as a primary medium to connect to the viewers' corporeality in my drawings, objects, and performances. Its ability to be, at once, both sensual and revolting is a direct result of its connection to the mouth, the stomach and the mind. This physicality makes it an ideal conduit to discuss the overlaps, confusions and gaps between seduction and disgust; the perceived and the fantastical".
Curator Michael Beam explained that the exhibition's title was inspired, in part, by a passage from the 2011 book, Better Off Dead: The Evolution of the Zombie as Post-Human by Margo Collins and Elson Bond. The correlation between apocalyptic bio-mutated zombie-humanoids and genetically-altered food manufacturing came to mind when I first experienced Johnson's work. Both speak to the dark seduction of scientific control over Mother Nature. Johnson's work seems to suggest that our current progress in creating disease resistant, age-defying food and people is a dangerously false conceit.
Johnson's nimble montage of mediums reduces the ability to quickly identify individual objects in the works. Negating this immediacy, the mystery of the identity of objects draws viewers much deeper into the works. Experiencing these works in a series offers a sense of the passing of time and surreal transformations.
Beam added that Johnson's subject matter is perhaps embedded in the realization that all living things are made of ephemeral material, bound in the inevitable cycles of life and death, deterioration and decay. The works in Generatione Nostra est Scriptor Minas capture fleeting moments along the way. They are beautiful reminders of the transience of life, be it fruit, vegetable or otherwise. Ultimately, her work is quite sublime "a beautifully revolting visual experience.
Mary A. Johnson was born in Pittsburgh, PA. At the time of the exhibition, she was working in Buffalo, NY and completing her Master of Fine Arts in Visual Studies at the University at Buffalo. She makes drawings and installation/performances that engage the absurd overlays between the luscious and the decayed. For more information on the artist, visit www.maryajohnson.com.