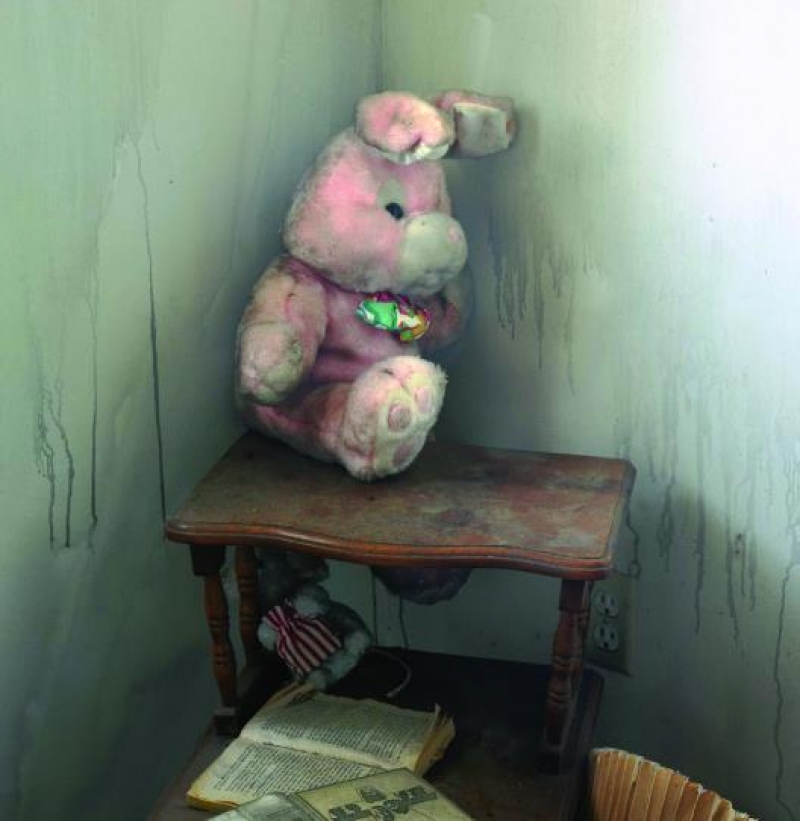 Stuffed Rabbit with Bible, 2005
Michael Veit: Unity Park
May 4, 2008 - Sep 14, 2008
Unity Park was a large low income housing complex built in the early 1970s in Niagara Falls, New York. As such projects go; it was fairly ambitious, comprised of 198 units within twenty-three buildings on twenty-six acres. Unity Park's decline started in 1993, marked by various complaints about deteriorating upkeep by its absentee landlord based in Boca Raton, Florida. This led to inevitable code violations and a rolling condemnation of the project that saw the last forty-nine families relocated to a neighboring housing project in 2003.
Niagara Falls, New York has long been known for its magnificent and majestic falls. For centuries, travelers' have made the falls an American destination stop. Since the 17th century artists and naturalists have documented the falls and surrounding region. From early etching and lithography to photography and digital recording, visitors have recorded the splendor of the region in a multitude of mediums.
Adjacent to the roaring cataract is the city of Niagara Falls. Like many cities across America, it has been through booming economic periods of growth as well as significant periods of decline. In the past few decades, the city of Niagara Falls has seen perhaps the most devastating period of decline imaginable. In the shadow of a mass exodus of corporations and populations,
the physical and social fabric of the city has been shattered.
Michael Veit captured this atmosphere of decline through the lens of his camera. Documenting the post-habitation of the housing complex—Unity Park. Many units were vacated hastily, with tenants leaving a myriad of personal items behind. Inadvertently, or perhaps on purpose, abandoned items were left where they sat when the apartment was occupied. These actions created a strange environment as if suddenly all human presence vanished.
Adding to this strange atmosphere, a number of apartments were occupied after the building was condemned. Squatters moved into empty living spaces and on occasion changed arrangements, damaged property, or brought their own limited possessions which were in the end also left behind. Veit's photographic record details countless families forced to leave their homes by the mismanagement of others. Each apartment in the complex housed a family, a history, a story.
Demolition of Unity Park began in December of 2006 and by January 2007, only piles of rubble remained. In spring of 2007 construction of Unity Park II was scheduled to begin.
Michael Beam
Curator of Exhibitions and Collections