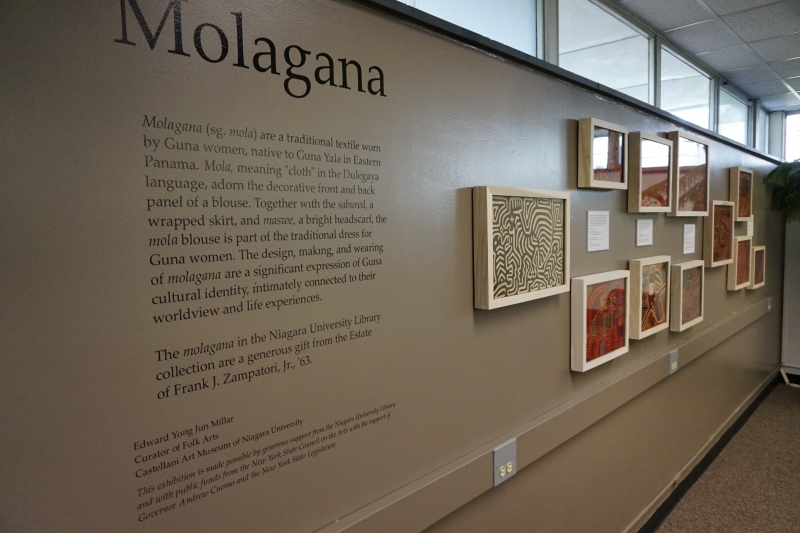 Molagana library installation photo, 2015
Molagana: In Partnership with the Niagara University Library
Aug 21, 2015 - Aug 21, 2016
The Folk Arts program of the Castellani Art Museum is partnering with the Niagara University Library to present an exhibition of molagana donated to the library by Niagara University alumni, Frank J. Zampatori Jr., '63. The exhibition of molagana is located at the South End of the Niagara University Library, basement level.
Mola panels in this exhibit display the varied imagery of this unique tradition that capture its intersection of contemporary, traditional, foreign, and local subjects. From labyrinthine geometric designs to a circus scene, these mola reflect the belief, aesthetics, and interests of the individual seamstress and her community.
The Guna of Guna Yala in Eastern Panama produce one of the most widely recognized traditional textiles and folk arts of Central America: the mola (pl. molagana). Sewn by Guna women through a reverse appliqué technique, these decorative cotton panels are worn on the front and back of the eponymous traditional blouse. Together with the sabured, a wrapped skirt, and maswe, a bright headscarf, the mola is worn in Guna women traditional dress and is a key expression of Guna cultural identity.
Mola making emerged in the late 19th century, carrying over many of the designs and aesthetics of the Guna body art tradition. Since the mid-20th century, designs that feature more contemporary imagery, such as a major boxing event, have also become a popular subject.
Increased tourism in the mid-20th century led to the emergence of molagana as a major part of the Guna tourist economy. The sale of mola panels to tourists and collectors throughout Guna Yala or at various markets and vendors in Panama City provides an additional, valuable source of income. These mola may have been originally worn or were made specifically to be sold, including through commission by an individual or organization.
This exhibition is made possible by generous support from the Niagara University Library and in part from the New York State Council on the Arts with the support of Governor Andrew Cuomo and the New York State Legislature.