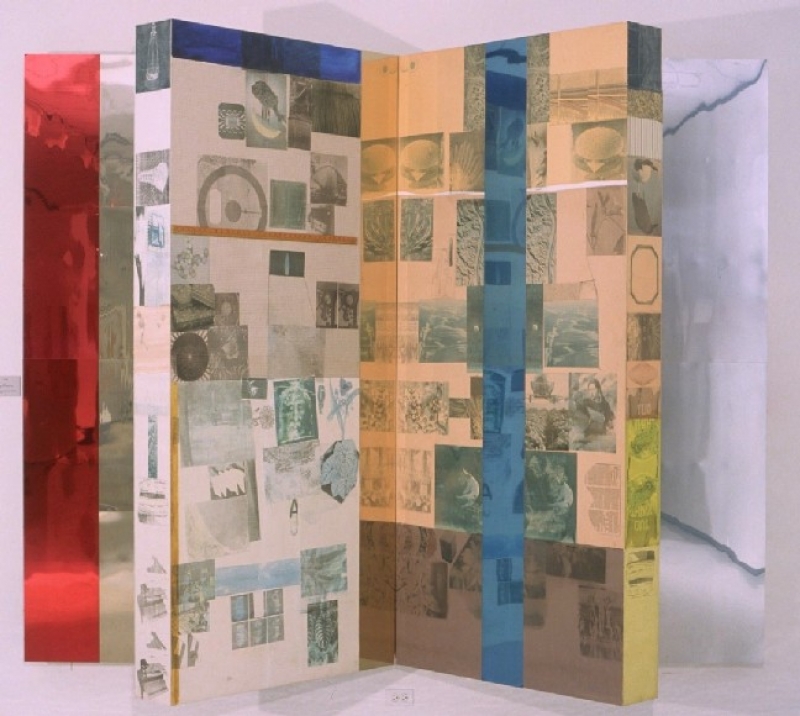 Robert Rauschenberg (American, 1925 - 2008), Atlas Colonnade, Jr., 1979, Solvent transfer on fabric collage with mirrors on wood, 96 x 117-1/2 x 41 inches. Castellani Art Museum of Niagara University Collection, Gift of Dr. and Mrs. Armand J. Castellani, 1999.
Of Their Time: Pop to Postmodernism
Jan 1, 2021 - Dec 7, 2023
What becomes immediately apparent in this gallery, in comparison to the previous Of Their Time galleries, is the wide array of subjects, materials and art making methods. Pop Art is an abbreviation for Popular Art. The Pop Art movement, late 1950s through the 1970s, wanted to bring art back into the daily life of average people. It was a reaction against abstract painting, which pop artists considered as too sophisticated and elite. Pop artists' chosen images were objects from everyday life such as Campbell's soup cans, bubble-gum comics or appropriated advertisements.
American artist Jim Dine famously said, "Pop is everything art hasn't been for the last two decades [referencing Abstract Expressionism]. It's basically a U-turn back to a representational visual communication, moving at a break-away speed...Pop is a re-enlistment in the world...It is the American Dream, optimistic, generous and naïve." Pop Art intruded into, and was derived from, commercial media and advertising. The undisputed cult figure of Pop Art was Andy Warhol.
Of Their Time primarily features works from the Castellani Art Museum's permanent collection—presented in a roughly chronological order. Art historical movements featured in this gallery include Pop and Postmodernism.
Pop artists employed commercial materials and advertising esthetics to create works of art that broke with preconceived notions of "high" and "low" art. Postmodernists generally used humor, parody and irony in their artwork. "Postmodernism was a late 20th century movement that opposed the Modernist preoccupation with purity of form and technique, and aimed to eradicate the divisions between art, popular culture and the media." Postmodernists embraced diversity, the mixing of ideas and ignored genre boundaries.
Excerpts from artstory-modernartinsight.org, biography.com and Art Historians Karen Roberts and Tyler Smith 2015 symposium on Postmodernism, Broward College, FL.
Of Their Time is made possible, in part, by the New York State Council on the Arts with the support of Governor Andrew M. Cuomo and the New York State Legislature.