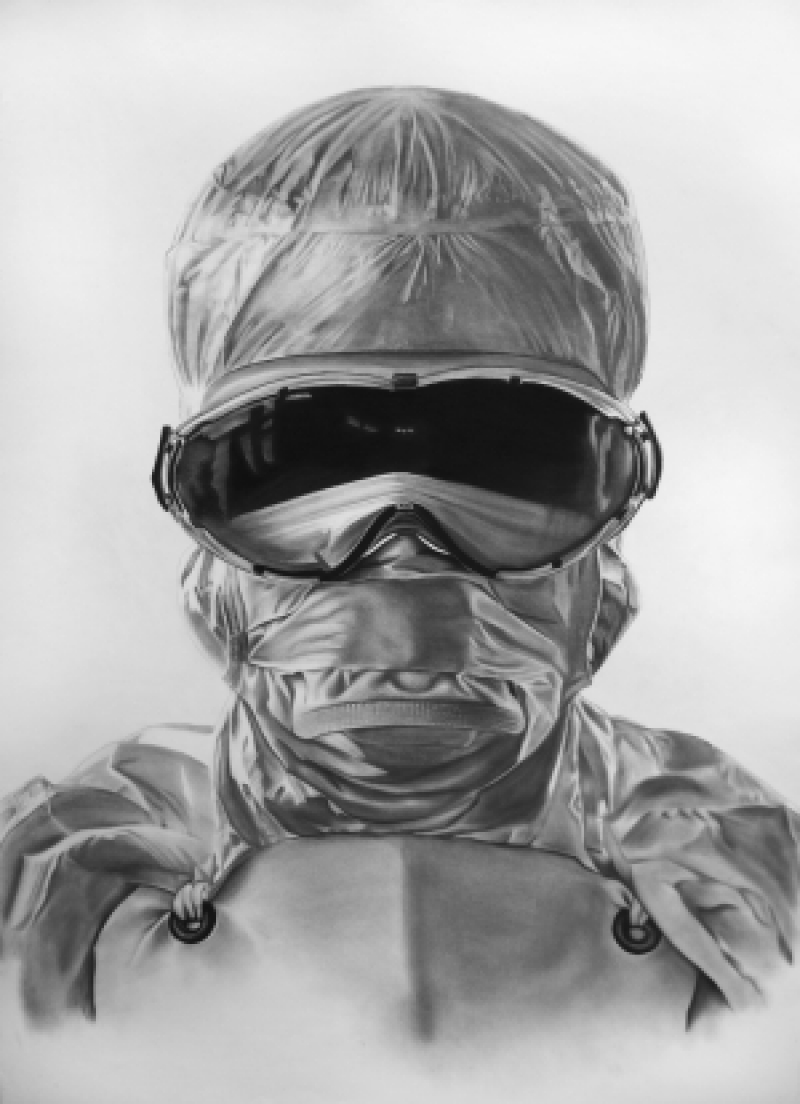 Patrick Foran, Contain Face, 2014, charcoal on paper, 60 x 44 inches.
Patrick Foran: Defacement
May 10, 2015 - Aug 9, 2015
Patrick Foran's work in this exhibition examined the ways in which masks, helmets and coverings obscure the face—providing anonymity and autonomy for the subject.
In this exhibiton, a small army of oversized, silent face-offs short-circuit the immediacy of identity. Simultaneously, these veils obstruct any facet of personality. Removing our individuality, for intended purposes of entertainment, biological protection or national defense elevates the opportunity for moral transgression and questionable personal accountability.
The artist's choice of charcoal and graphite mediums on large format, high-grade downy paper initially read as cordial and agreeable. As the subjects illustrated begin to resonate, the juxtaposition between the ephemeral medium and strong content begins to manifest itself. These monolithic portraits deliver a heightened awareness and recognition of their apparent purpose.
A direct resonance of the various materials illustrated, such as Tyvek, molded plastic, fabrics and fiberglass resins, viewers are confronted with a perceived directive of intent. These materials form a protective shell or barrier, functioning as defensive, offensive or, in some cases both, insulating the wearer from physical, biological or social intrusion.
Presented in these scenarios, helmets and facial coverings function as prostheses that afford protection and anonymity, and the body-helmet structures become recognizable symbols for competition, entertainment, military aggression/protection, political ideologies or social protests. Ultimately, these drawings opened a critical dialogue regarding a multitude of social and political issues regarding power, identity and personal accountability.