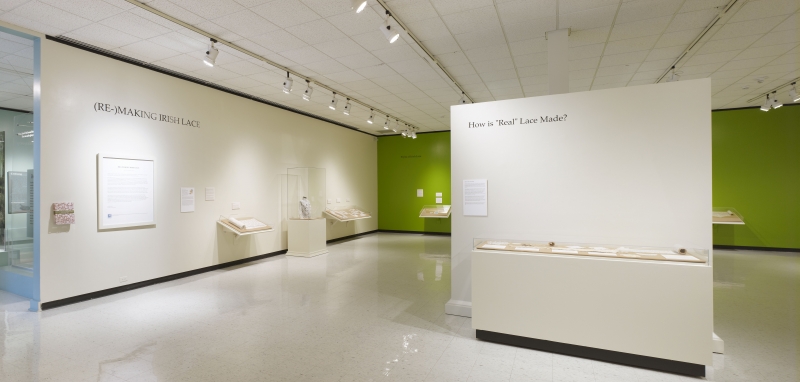 (Re-)Making Irish Lace installation photo, 2012
(Re-)Making Irish Lace
Jul 15, 2012 - Dec 2, 2012
---
Displaying Irish styles of lace, old and new, historical and reimagined, this exhibition celebrates the ingenuity and handwork of women in Ireland and Western New York.
The Irish lacemaking industry arose during the 19th century as a commercial response to poverty and famine. Numerous convents, philanthropic societies, and wealthy patrons promoted widespread instruction in lacemaking, hoping to create a means for poor women to earn income. Conversely, shrewd entrepreneurs saw an opportunity for exploiting low-wage, skilled labor. Given the variety of motivations driving the industry, the organization of lace production ranged from cooperative workrooms run by nuns to factory "schools" demanding indentured servitude.
Over time, distinctive regional styles of lace developed across Ireland and began receiving international recognition, both positive and negative, as they were sent to industrial exhibitions like the 1893 World's Columbian Exposition held in Chicago. Although some styles, like Limerick and Irish Crochet, achieved periods of wide popularity, Irish lace was largely undervalued in its day, criticized as well-executed, but lacking in fine taste—that is, the tastes of Continental upper classes.
(Re-)Making Irish Lace explores the hidden labor of an elite textile, demonstrating the artistic achievements of average women, many desperately poor, who harnessed their hands and their imaginations to support themselves and their families. Showing antique examples of the most common Irish styles from the collection of Buffalonian Molly Carroll, this exhibition pairs them with the work of contemporary women living in Western New York who, through their own creativity, adapt Irish lace for a new time and place.
Click here for a digital copy of the exhibit catalog.
This exhibition and event is made possible with public funds from the New York State Council on the Arts, celebrating 50 years of building strong, creative communities in New York State's 62 counties.
Learn more about this exhibition: Jon Kay of Traditional Arts Indiana interviewed Curator of Folk Arts Carrie Hertz for his podcast series Artisan Ancestors. You can listen to it here, on the Artisan Ancestors website.