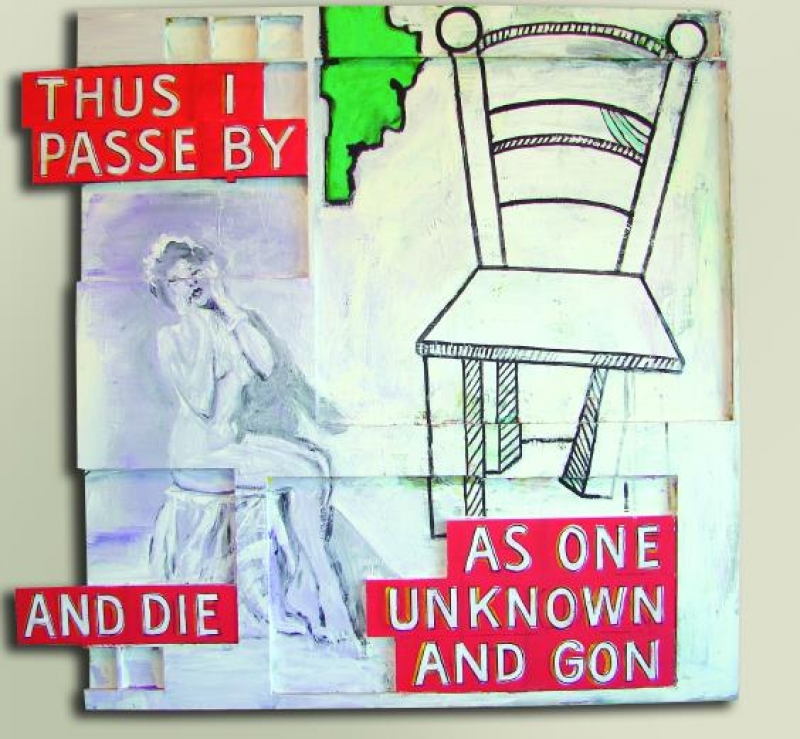 Thus I Passe By And Die, 2004, acrylic on shaped wood, 481⁄4 x 50 in.
RICHARD HUNTINGTON Thus I Passe By–Selections from 1970-2008
Sep 21, 2008 - Jan 18, 2009
Curating the Critic
As the barometer for the regional art scene for twenty-two years at the time of this exhibition, Richard Huntington has been privy to an exceptional array of movements, styles, and artistic explorations. From his unique position as a respected authority on our region's art, he has, over the years, provided educated insight into the area's artistic heritage. Having retired from his position as art and theater critic at The Buffalo News, Huntington refocused on his own artistic endeavors, which in the past have been secondary to his critical ruminations. With this new focus comes a considerable challenge—how to introduce the artist Richard Huntington to all of us who know the critic Richard Huntington. Many of us have seen his work over the years but, because he has shown mostly outside Western New York, many may not be aware of the substantial scope of his total output. The exhibition has been organized into categories that focus on the artist's major stylistic periods from the previous three decades, culminating with a selection of works on canvas.
Triangles (1970s)
Toward the end of the 1960s, Huntington began working on large format canvases pieced together with a central canvas framed by adjoined, upward-facing U-shaped canvases. The image in these works often consisted of a single, aggressive centrally located triangle supported by a solid bar of color below. The triangle was chosen, Huntington said, because "it was a steady form with a magnetic center." A series of asymmetrical compositions using the triangle were purposely arranged to be slightly off balance, as though seeking an elusive harmony but never quite achieving it.
Cartoons (1980s)
In 1982, Huntington left his position as Buffalo Courier-Express art critic to become visual arts director at Artpark. Inspired by his new environment, he moved from pure abstraction to cartoonish appropriations, as he freely experimented with elements of drawing, painting, and collage.
Successfully combining fragmented imagery, text, and lettering, he began to think in terms of themes and subject matter. As Huntington said, "For the first time in twenty years, I allowed the human presence to roam through my art." The inventive mixture of partial figuration set in an abstract environment was a rewarding period of growth. Cartoon imagery has continued
to appear in his work, including his most recent paintings. The cartoons evolved into overtly satirical work with the (Rube) Goldberg Variations. Rube Goldberg (1883-1970) was a Pulitzer Prize-winning cartoonist, a sculptor, and a writer whose famous "inventions" depicted fantastically difficult ways to accomplish simple, everyday tasks. Hybrids of machine movements with flexing elements that relied on unlikely actions and reactions— think The Mousetrap Game released by Ideal in 1963— the cartoons were "symbols of man's capacity for exerting maximum effort to accomplish minimal result." Huntington takes Goldberg's "machines" and adds his own painterly, expressionistic elements that the artist says "makes them somehow comic and tragic, all at once."
Beauty Rules (1990s)
The series Beauty Rules and the related pinup work parodied the relationship of male artists working with the female figure. The pinup or glamour girl of the mid-twentieth century was a stylized objectification of the romanticized female depicted in the nude –or close to it—by past artists who excused or camouflaged the sexual nature of these depictions by making them goddesses or mythological characters. "In my images, the woman is attempting to follow the rules of how to be glamorous and sexy in the traditional Hollywood manner through the injunctions of a beauty culture author, former strong man, and silent film star by the name of Joe Bonomo," Huntington stated. Bonomo's absurd rules are written directly on the works and juxtaposed with an illustration of a woman attempting to conform to these dictates. This series ultimately becomes a satire of a particularly sexist period in American culture.
New Work (2000s)
Most recently Huntington's work has been influenced by folk sources, no doubt from time spent acclimating to his secondary residence in Mexico. Folk angels and Holy Virgins, along with cartoons gleaned from Spanish language books, are combined with forms derived from Willem de Kooning's late work, "those ribbony paintings," as Huntington describes them," where line is worked and reworked until the famous de Kooning speed is slowed to a static webbing or armature."
A new cartoon-derived group of paintings, titled Mussolini in Love, introduces emptied-out voice balloons in calculated combination with highly simplified figures. Huntington's Thus I Passe By series of a few years back are, in the artist's words, "mock memorials for one who has departed and left behind women who mourn with an eye toward their own appearance and with an apparent emotional emptiness." These works smoothly reference the off-handed tone of casual goodbyes in Robert Herrick's (1591- 1674) poem, Upon His Departure Hence.

Michael J. Beam
Curator of Exhibitions and Collections