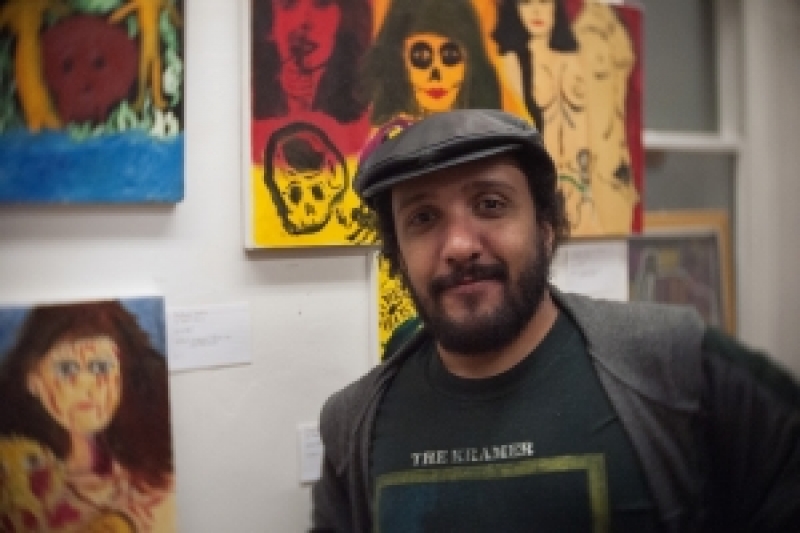 Robert Harris: Painting in Progress
Jan 24, 2016 - Apr 24, 2016
Robert Harris is perhaps the most well-known unknown artist in the Western New York region. Through his online presence, the artist declares to be "everywhere and nowhere—a life in progress." A complex artist with both a humble nature and a glint in his eye suggests internal aspirations of resilient artistic rebellion. These dueling qualities beg the question…"Is this the truth…the whole truth…so help you?"
Harris's works are painted with intentional flatness, purposefully devoid of slick-refinement and bound with sturdy black contour lines. His paintings, on occasion, pay homage to historical figures, religious deities and fictional characters. The body of work featured in Painting in Progress candidly documents and celebrates the relationship Harris has, or had, with individuals portrayed.
The, seemingly improvisational, layering of dense, bold colors, jostle with ghostly background figurations. These compositions, heavy with atmosphere, rich color and warm light register genuine honesty and an aspect of documentative art-making that is both visually and spiritually refreshing.
Through his social-media presence, Harris (a.k.a. Baron Robert von Ticklebomb)—with a visual syntax all his own—updates his followers with posts such as: "painting in progress thirty-six percent finished," "painting in progress eighty-seven percent," or "painting in progress based on sketches from an old and tattered moleskin." These pontifications allude to his off-base and infectious individuality. And for good measure, viewers can find a raunchy pink tongue jetting out—in defiance of the establishment. A modern-day Toulouse Lautrec, Harris paints with optimism in the face of personal and emotional setbacks—he lives a life victorious.
Painting in Progress was, at its time, the latest in the CAM's TopSpin Series of exhibitions featuring emerging regional artists.