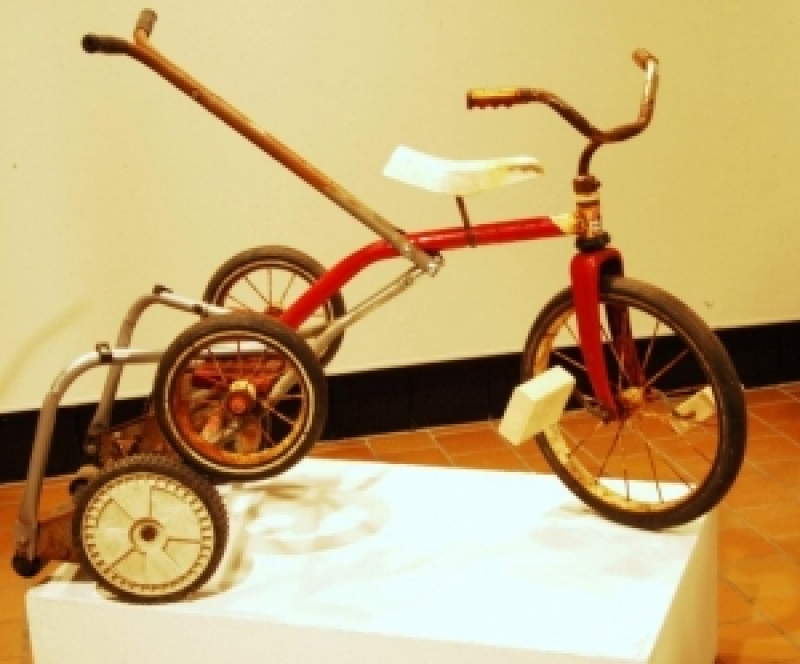 Scott Bye, Learn to Lawn, found objects, 2009
Scott Bye: Method to My Madness
Jan 30, 2011 - May 22, 2011
Scott Bye's exhibition featured an array of salvaged materials that have been ingeniously assembled into engaging structures. His assemblages capture elements of the human experience such as life, death, humor and devastation. Bye speaks to these issues in a remarkably humble and playful fashion through his sculpture. He makes abstract work from familiar, everyday materials that materials that, when assembled, transcend their previous function or intention.
Bye has been inspired by numerous artists through his artistic journey. His educational background introduced him to sculptors such as Man Ray and Marcel Duchamp and the concepts of material diversity and the Ready-Made. Anish Kapoor, Wendy Ross, Richard Serra and Do Ho Suh are also worthy of mention when examining the artist's influences. He expands on his creative process stating, "I am equally inspired by family, friends, professors and everyday experiences from eating a cookie to taking a shower."
Bye is fascinated by the dramatic character of discarded objects. It is the "personality" of the object sitting on the side of the road, no longer valued for its intended purpose, which attracts him. "These objects, now free from the constrictions of a preconceived functionality, are capable of morphing into a new existence and offer new meanings or functions altogether," states Bye. His sculptures, though primarily made of found objects, are supplemented with materials such as cedar shingles, structural wood and a variety of assembly hardware. "I like to straddle the line between radiance in character and cleanliness in show," says Bye. By combining the two aesthetics in an unlikely composition, the piece tells a story of old while presenting a meaningful newborn energy.
Bye's ability to create these marvelous fusions of discarded objects allows him to portray the pressures of reality, the economy, politics, health and other serious issues without permitting his work to become overly dramatic or cynical—two qualities which the artist works to avoid. "I enjoy taking the viewer away from these pressures, and for a moment bringing them back to adolescent adventures of Legos, building treehouses or assembling go-carts. I build what I build because it looks like fun in my mind's eye, and if no one has built it before, then it is up to me and my imagination to manifest it."
He affirms that the method to his madness "is not merely a description of my personal sanity, or lack thereof, but rather a philosophical lens with which I reflect chaos and the battle for balance in the universe in the structures I build." Bye's aesthetic style functions as a counter weight to more formal artists, employing youthful imagination and light-hearted cleverness to his art. With wit and candor, he utilizes the found object in a way that generates a unique and personalized message through his sculptural manifestations.