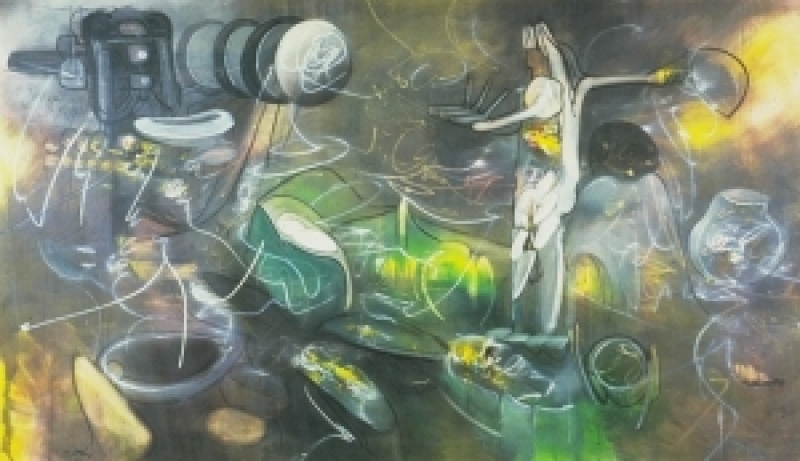 Robert Matta (Chilean, 1911-2002) Interruption of Memory, 1966, oil on canvas, Castellani Art Museum of Niagara University Collection. Gift of Dr. and Mrs. Armand J. Castellani, 1986.
Surrealism and the Museum of Dreams
Feb 14, 2010 - May 30, 2010
---
This exhibition was presented in partnership with Niagara University's reader's theater production of Hortensia and the Museum of Dreams February 25 - 28 in the main gallery of the Castellani Art Museum.
Listen to Eileen Buckley's interview on WBFO-FM with Director Kate Koperski, Curator Michael Beam and Gregory Fletcher, Director of Niagara University Theatre.
Between 1960 and 1962, 14,000 Cuban children were sent to the United States by anxious parents fearing for their children's future under Castro's regime. In Hortensia and the Museum of Dreams, Nilo Cruz calls this mass exodus "Operation Peter Pan" to portray the consequences of a childhood frozen in time by the separation from families and county. Surrealism and the Museum of Dreams reflects the personal turbulence, broken spirits, and repressed emotions of the play's main characters in the surrealist works of both Wilfredo Lam and Roberto Matta. Both artists experienced significant trials and tribulations in their own lives that are expressed in their modernist works.
Wilfredo Lam (1902-1982) was a Cuban born artist whose personal experiences were as complex as his artworks. Born to a Chinese father and Mulatto mother, he spent a lifetime seeking to revive and portray the enduring Afro-Cuban spirit and culture from which he came. Lam was a master at mixing primitive and sophisticated elements of modernist art. By encapsulating both terror and beauty in his figures, Lam imbued them with powerful emotion and psychological tension. Lam is celebrated for his artistic sophistication and also as one of Surrealism's most intuitive disciples for his interpretations of his Afro-Cuban oriented world view.
Roberto Matta (1911-2002) was born in Chile. Educated as an architect and interior designer, he spent the 1930's in Paris befriending artists including Picasso, Dali and Breton. Before World War II, he settled in New York where he helped to influence the development of Surrealism and Abstract Expressionism. Matta's quest to portray the unconscious on paper and canvas led him to develop what he called "Psychological Morphology." This was achieved, in part, by mastering the technique known as automatism—automatic drawing which is achieved by the unconscious movement of the artist's hand across paper or canvas. The central work in the exhibition, Interruption of Memory (1966) by Matta is one of a series of nine large paintings that the artist originally created to fit together inside of an enormous cube form. The works were first shown in this format, in the United States, at the Iolas Gallery, New York in 1972.
Surrealism and the Museum of Dreams offers a glimpse into the minds of two artists exploring themes and images revealed by the workings of their subconscious. These works bring Cruz's play to life as a vindication of hope and compelling evidence that dreams are not just undeniable but necessary to our lives.