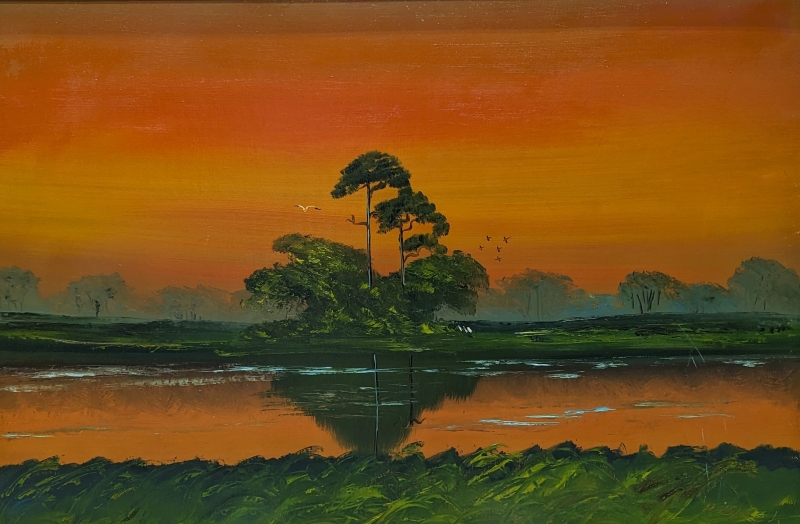 Al "Blood" Black (b. 1947) Untitled (Orange Sunset), n.d. oil on Upson board with artist made frame, 24 x 35-1/2 in. Collection of Ray and Selina McLendon
The Highwaymen: Black Artists of the Florida Coast
Sep 14, 2023 - Apr 28, 2024
---
The Highwaymen are a group of 26 affiliated African American artists who created stylized, impressionistic scenes of Florida's magnificent forests, swamps, beaches, and sunsets. They painted landscapes throughout the 1950s through the 1970s.
Facing overt racism, the Highwaymen were barred from exhibiting in established Florida art museums and galleries. The painters instead found a creative solution to share their work: Florida roadsides. With automotive travel booming, these entrepreneurs attracted curious travelers who pulled over to purchase their colorful works.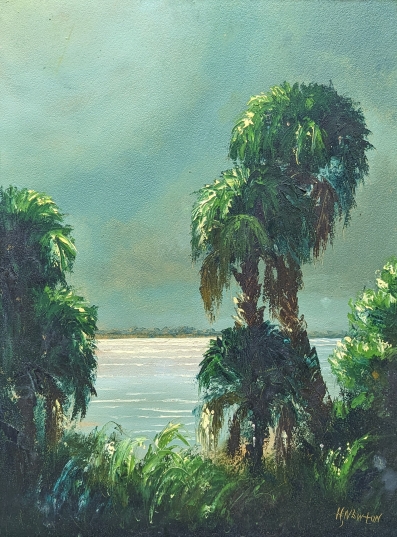 Today, the Highwaymen have received national and international recognition for their unique style and business acumen. The name "Highwaymen'' was actually coined in a 1995 article by Jim Fitch, former curator of the Museum of Florida Art. He wrote, "Thus was born a movement, a school, a Black, self-taught tradition that I recognize as the beginning of Florida's residential, regional art tradition." The article brought the artists and their movement into the mainstream art world and garnered attention from major art collectors.
This exhibition features 21 paintings by the original Highwaymen and their children, the first exhibition of its kind in Western New York. It required a great deal of research, as few definitive resources about the Highwaymen currently exist.
Public Reception
5:30 p.m. | Doors Open
6:00 p.m. | Opening Remarks
6:15 p.m. | The Highwaymen Tour with Second-Generation Highwayman Ray McLendon
7:30 p.m. | Public Reception Concludes
Member and NU Reception
CAM Members and Niagara University will have a separate opening reception from 4:30 to 5:30 p.m.

Members and NU Reception RSVP

Photo Credit: Harold Newton (1934 - 1994) Untitled (Palm Trees/Mist), n.d. oil on Upson board, 23-3/4 x 18 inches. Collection of Ray and Selina McLendon
The Highwaymen: Black Artists of the Florida Coast is made possible through the New York State Council on the Arts with the support of the Office of the Governor and the New York State Legislature. We also acknowledge the generous financial support provided by Dr. Marilyn Ford that made this exhibition possible.