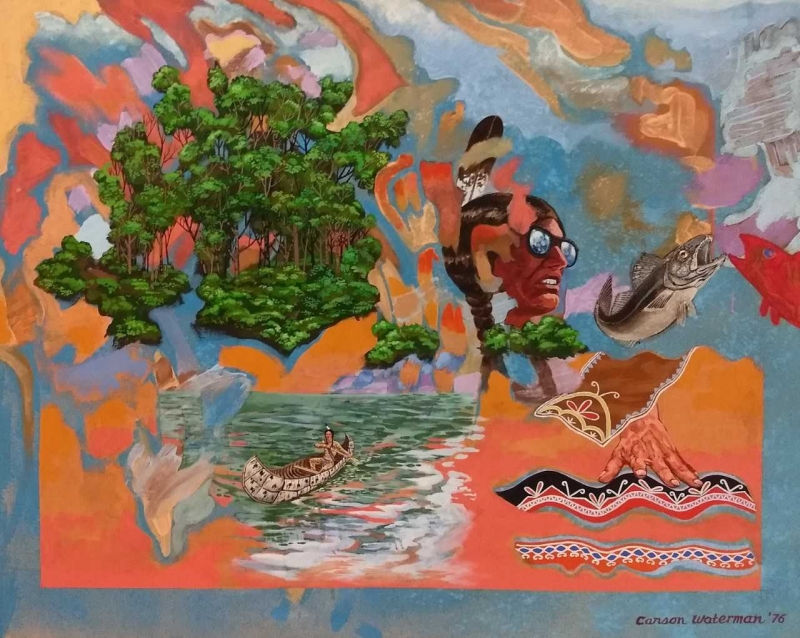 Carson Waterman (Seneca Nation, Snipe Clan, b. 1944) Will Sampson Jr. with Woodland Beadwork, 1976 acrylic on canvas, 35 x 45 in. Promised Bequest Gift of Dr. Gerald Mead, Jr.
Through Artists' Eyes: Exploring the Natural and Urban World
Sep 7, 2023 - Jul 1, 2026
Drawn primarily from CAM's permanent collection, Through Artists' Eyes: Exploring the Natural and Urban World, features a diverse range of artists' work that offers insights into our shared human experiences. Each section offers differing perspectives on the idyllic beauty of natural landscapes, the symbiotic relationship between humans and animals, the grandeur of Niagara Falls, the complexity of urban environments, and the individuality of people. The themes demonstrate artists' ability to explore their own unique viewpoints, inviting viewers to contemplate common subjects in new ways.

Anxiety about social equality, protection of our environment, and the dangers of over-industrialization repeat over time. Perhaps these concerns could be alleviated if balanced with actionable reverence for the natural world and the creatures within it, including respect for diverse cultures and beliefs. Angelic Locomotive, the ceramic work in the gallery entrance by local Brett Coppins, masterfully illustrates this precarious balance. The wings represent a desire to protect our natural resources, while the locomotive wheel and track portray our ongoing industrial development.
This exhibition elevates lesser-known creators, who have been historically overlooked, alongside artists who have gained national acclaim. The gallery presents a variety of modern and contemporary pieces that share diverse artistic viewpoints and provides a space for personal reflection.

Through Artists' Eyes: Exploring the Natural and Urban World is made possible through the New York State Council on the Arts with the support of the Office of the Governor and the New York State Legislature.