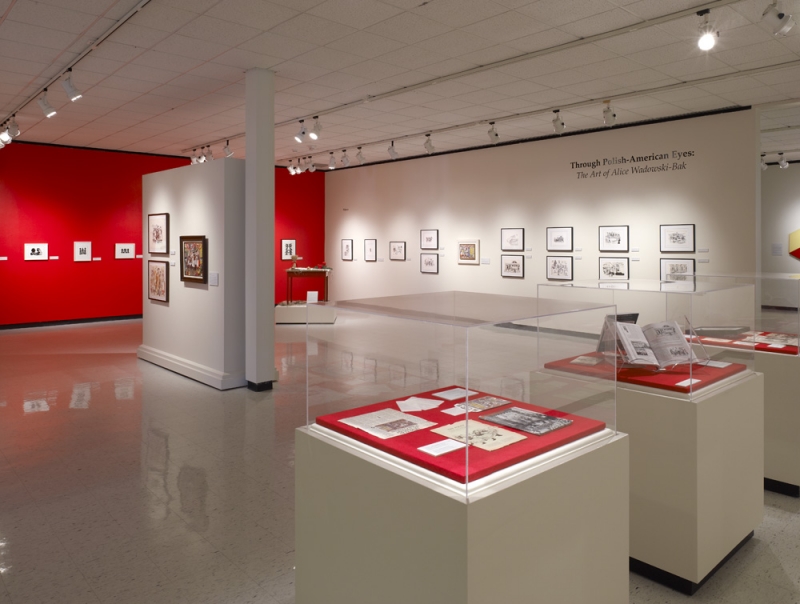 Through Polish-American Eyes: The Art of Alice Wadowski Bak installation photo, 2011
Through Polish-American Eyes: The Art of Alice Wadowski-Bak
Mar 27, 2011 - Nov 27, 2011
Through Polish-American Eyes: The Art of Alice Wadowski Bak is the first major retrospective of the work Bak created to illustrate traditional Polish customs, celebrations and beliefs.
The daughter of immigrant parents, artist Alice Wadowski-Bak (1935-2008) grew up in a thriving Catholic, Polish-American community in Niagara Falls, NY. Throughout her life, Bak created numerous works that drew inspiration from the rich seasonal and liturgical customs that had surrounded her. Offering examples of Bak's work in different media--paintings, line drawings, and traditional paper-cuts (wycinanki), Through Polish-American Eyes is largely arranged to follow the annual seasonal celebrations of Polish-Americans, both sacred and secular, that take place in parish churches and family homes. The show, as a whole, demonstrates Bak's deep engagement with religious and Polish-American identity.
Barbara Frackiewicz, a friend and fellow artist of Bak's, reminds us that "culture lends a framework for experiencing life--for celebrating, for worshipping, for being." Culture also trains our eyes, giving historical significance to color, line and form. Bak's work has the power to evoke continuity within change, pulling other times and places into the present. It transports us, offering us a glimpse of the sustaining beauty made available through collective wisdom and celebration. At once nostalgic and forward-looking, Bak's illustrations and paper-cuts demonstrate a sharp observation of lived experience touched by a hope for its continued relevance.
Click here for a digital copy of the exhibit catalog.
This exhibition was made possible with public funds from the New York State Council on the Arts, celebrating 50 years of building strong, creative communities in New York State's 62 counties.