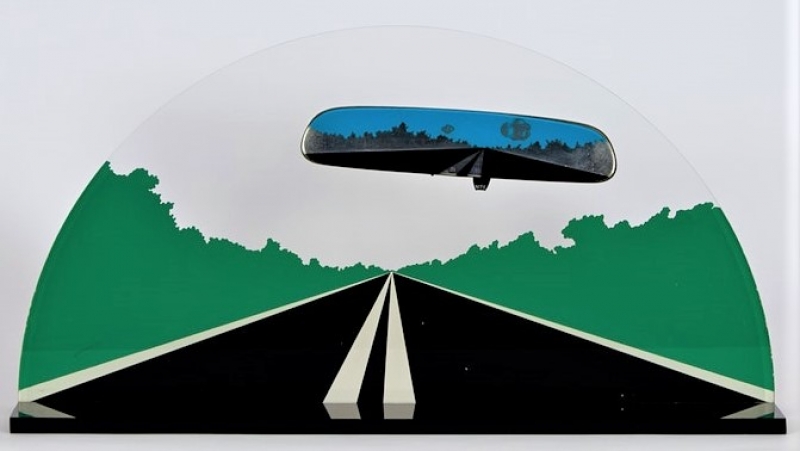 Day and Night (Rearview Mirror and Windshield), 1970, mixed media, 12/100, 121⁄2 x 24 x 6 inches. Collection of Gerald C. Mead, Jr., Buffalo, NY
Western New York Collects: Allan D'Arcangelo
Jun 23, 2019 - Dec 13, 2019
---
Allan D'Arcangelo (1930-1998), born in Buffalo, NY, was an internationally recognized artist whose work spanned five decades. His first solo exhibition in New York was held at the Fischbach Gallery in 1963, and was "well received and earned Mr. D'Arcangelo a place in the first generation of "Pop artists" (New York Times). He exhibited regularly in Europe and New York throughout the 1960s and joined the Marlborough Gallery in 1971. Starting with the 1964 New York World's Fair, he executed numerous mural commissions, both public and private. D'Arcangelo was the recipient of a 1987-88 Guggenheim Fellowship. Throughout his career, D'Arcangelo had solo-exhibitions at many prominent institutions including: Ileana Sonnabend Gallery, Paris; Marlborough Gallery, NY; the Institute of Contemporary Art Philadelphia; Neuberger Museum of Art, State University of New York, Purchase, NY; Albright-Knox Art Gallery, Buffalo, NY; Burchfield Center (now Burchfield Penney Art Center), Buffalo State College, NY; and Mitchell-Innes & Nash, NY. In 2005, a retrospective of his work opened at the Palizzina dei Giardini in Modena, Italy.
D'Arcangelo received his Bachelor Degree in History from the State University of New York at Buffalo in 1953. D'Arcangelo joined the United States Army in the mid-1950s and used the GI Bill to study painting at Mexico City College from 1957-1959. He moved to New York City in 1959 according to the Artist's Estate website, "in search of the unique American experience. It was at this time that his painting assumed a cool, removed aesthetic reminiscent of Roy Lichtenstein and Andy Warhol." D'Arcangelo studied at the New School of Social Research and the City University of New York City College. It was during this time he became familiar with the work of the Abstract Expressionist painters—the predominate style of the time. He went on to teach at noteworthy institutions in New York including the School of Visual Arts (1963-1968 and 1982-1992); and Brooklyn College (1973-1992). Western New York Collects: Allan D'Arcangelo is the fifth in a series of exhibitions that highlight the work of a diverse range of visual artists with Western New York (WNY) connections who have gained significant national and international recognition. This exhibition features paintings, sculptures, prints and editioned works—spanning three decades—which have been selected from public and private collections in WNY. Collectively, these works form a cohesive exhibition with representative examples of the creative output of D'Arcangelo's exemplary career, while also serving to reinforce the scope and strength of the collector base in our region.
As D'Arcangelo's work influences artists of today, his contributions to contemporary art will endure for the future. The Western New York Collects exhibition series has become an important means of uniting the sphere of public institutions with significant WNY collectors. Furthermore, this ongoing series honors the role that local collectors play in creating and maintaining an enduring artistic legacy for our region. We hope this series reveals the varied, but always vital, relationships between artists and collectors.
In addition to the CAM collection, D'Arcangelo's work is included in American museum collections such as the Albright-Knox Art Gallery and Burchfield Penney Art Center, Buffalo, NY; Art Institute of Chicago, IL; Cornell Fine Arts Museum, Rollins College, Winter Park, FL; Dallas Museum of Art, TX; Hirshhorn Museum and Sculpture Garden, Smithsonian Institution and the National Gallery, Washington, D.C.; Museum of Modern Art and the Metropolitan Museum of Art, NY; Solomon R. Guggenheim Museum and the Whitney Museum of American Art, NY; the Virginia Museum of Fine Arts, Richmond, VA, and in public and private collections world-wide. The Estate of Allan D'Arcangelo is represented by Garth Greenan Gallery, New York, NY. Selected excerpts, and artist biography, from Garth Greenan Gallery, Estate of Allan D'Arcangelo and the Cornell Fine Arts Museum, Rollins College, Orlando, FL.
Western New York Collects: Allan D'Arcangelo was made possible, in part, by the New York State Council on the Arts with the support of Governor Andrew M. Cuomo and the New York State Legislature.
Thank you to each of the public institutions and private lenders who have shared their treasured works.

COLLABORATIVE PROGRAMMING Allan D'Arcangelo: A Print Retrospective, September 5-29, 2019, with an Opening Reception: Thursday, September 5, 6:00 - 9:00 p.m., Sugar City Arts Collaborative, 1239 Niagara Street, Buffalo, NY