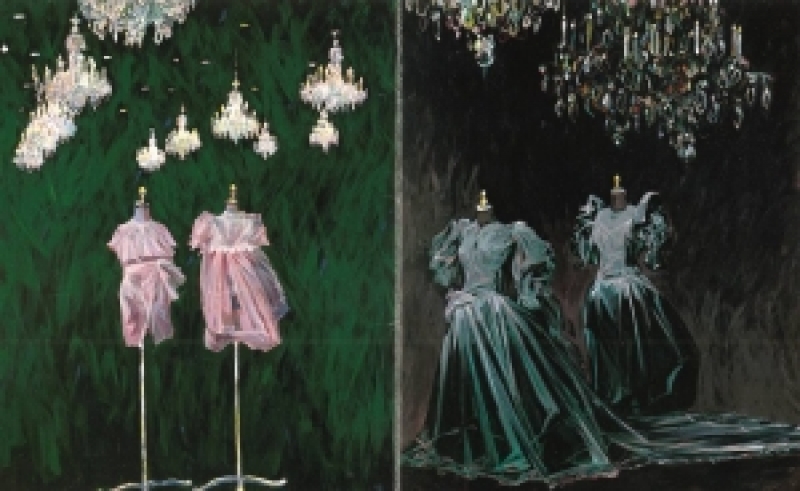 The Ringbearer and the Flower Girl/The Bride and the Bridesmaid, 1988 acrylic on canvas, 80 x 132 inches. Collection of Mr. and Mrs. Savino Nanula, Grand Island, NY.
Western New York Collects: Arnold Mesches
Sep 9, 2012 - Jan 27, 2013
The emphasis of this series, Western New York Collects, was to highlight the work of a diverse range of visual artists, with a Western New York connection, who have garnered significant national and international exposure and recognition. Selected from Western New York collections, both public and private, this ongoing series also honors the rich history, significant generosity and prudence of regional collectors.
This exhibition featured works in varied media from four decades, the 1960s – 1990s, highlighting two important bodies of work—Echoes and Anomie Series. In a 2007 essay, international artist and critic, Robert Storr described Mesches' vision and visual energy thus: "With bells, whistles and crashing waves of sound form a Wurlitzer organ ringing in our ears as the Baroque chandeliers and sconces dim in his anti-modern monuments to the phantasmagoria of modern civilization on the brink, Mesches reminds us that quiet surrender never really was nor ever will be an option for him."
Arnold Mesches' exhibition featured works from public collections including the Albright-Knox Art Gallery, Burchfield Penney Art Center, Castellani Art Museum of Niagara University and University at Buffalo Art Galleries, Buffalo, NY. Private collectors lending works include Dr. Anthony Bannon and Elizabeth Stewart; Audre Bunis; Carla Castellani, Lillian Kushner, Jim and Ronnie Kushner, Amherst, NY; Gerald Mead, Buffalo, NY; Mr. and Mrs. Savino Nanula, Grand Island, NY; Marie and Thomas O'Donnell , Sandra and Nils Olsen, Lewiston, NY and Donald J. Siuta and Dr. John Cichon, Buffalo, NY.
Renowned Western New York art collector, educator and artist Gerald Mead will conduct an in-depth interview with the artist which will be published in the accompanying exhibition publication.
Visit Arnold Mesches' website.