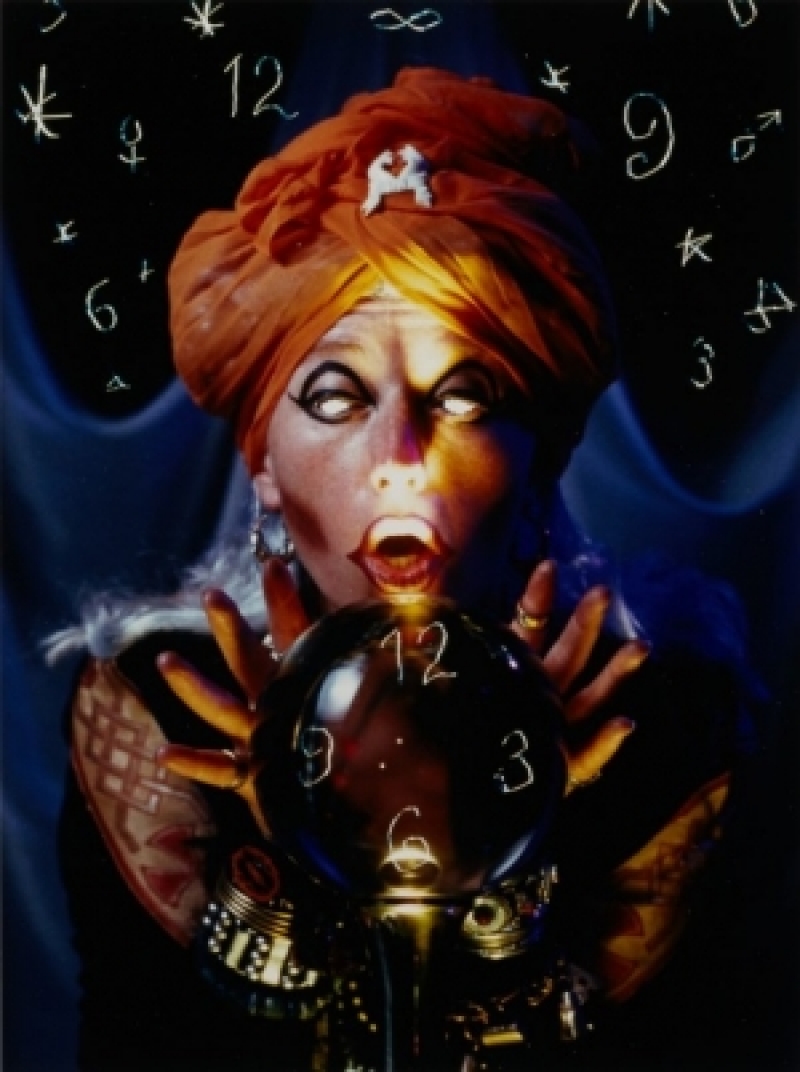 Untitled (Fortune Teller), 1993, Chromogenic color print on Agfa paper, unlimited edition, 11-1/4 x 9-1/4 in. Collection of Alyssa Rabach Anthone, Buffalo, NY.
Western New York Collects: Cindy Sherman
Mar 23, 2014 - Jul 20, 2014
Western New York Collects: Cindy Sherman was the third in a series of exhibitions that highlights the work of a diverse range of visual artists with Western New York (WNY) connections who have gained significant national and international recognition.
Cindy Sherman, who attended Buffalo State College in the mid-1970s and was one of the founding members of Hallwalls Contemporary Arts Center, was an ideal subject for this series since her highly vaulted career has garnered her the position of an icon in the canon of international art history. For decades, our community has marked her celebrated career with the same kind of pride and admiration associated with the successes of hometown heroes in the worlds of sport, entertainment and politics.
This exhibition consisted of photographs and other archival materials that have been selected from public and private collections in WNY, including some artworks that have never been viewed by the public. The Western New York Collects exhibition series, established by museum director Kate Koperski, has become a vital tool in uniting the public institution platform with significant WNY collectors. Furthermore, this ongoing series is an effort to honor the role that local collectors play in creating and maintaining an enduring artistic legacy for our region. We hope this new series reveals the varied, but always vital, relationships between artists and collectors. Every collector holds unique insights, history and provenance regarding the acquisition of their work(s) by Cindy Sherman.
Collectively, these works formed a cohesive exhibition with representative examples of the creative output of each decade of Sherman's exemplary career, and also serve to reinforce the scope, strength and matchless collector base in our region. As Sherman's work continues to influence artists of today, her invaluable contributions to contemporary art will endure for the foreseeable future.
Gerald Mead
Western New York Collects: Cindy Sherman Co-Curator
Michael Beam
Curator of Collections and Exhibitions
Accompanying Programming
In conjunction with the exhibition Western New York Collects: Cindy Sherman, Hallwalls presented Office Killer (1997) directed by Cindy Sherman on Thursday, April 24, 2014 at 7:00 p.m. in the Hallwalls Cinema, with a 5:30 pm cocktail reception in the Hallwalls Gallery.
Hallwalls Contemporary Arts Center, 716.854.1694 www.hallwalls.org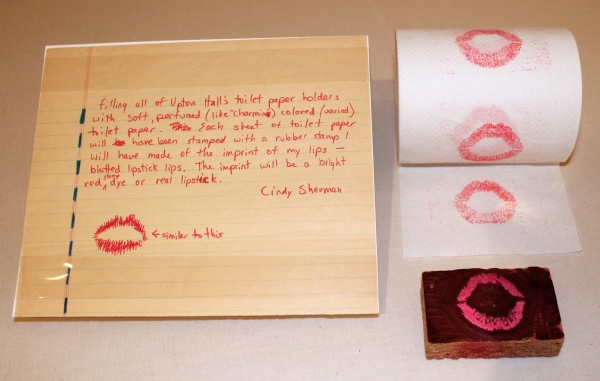 "Art Attack" Recreaction
While researching this exhibition, the curators met with James Maynard, Ph. D., Associate Curator at The Poetry Collection of the University Libraries, University at Buffalo to view their Hallwalls archive. Maynard revealed a previously unexamined document—a three sentence inscription and graphic rendering of a lip print. The text, which described a public art intervention (called an "Art Attack" at the time) that took place at Buffalo State College circa 1975-76, read: "Filling all of Upton Hall's toilet paper holders with soft, perfumed (like 'Charmin) colored (varied) toilet paper. Each sheet of toilet paper will have been stamped with a rubber stamp I will have made of the imprint of my lips—blotted lipstick lips. The imprint will be a bright red stamp dye or real lipstick. Cindy Sherman."
Subsequent communication with Cindy Sherman authenticated this document and led to our collaboration with the artist. Sherman graciously lent the museum her original lip stamp and consulted on details of the recreation of her "Art Attack" for the Castellani Art Museum on the occasion of the Western New York Collects: Cindy Sherman exhibition. An edition of 30 rolls of "Art Attack" toilet paper was produced by Marc Polish Associates, LLC. (justtoiletpaper.com) in Hallandale Beach, FL and the rolls were installed in the museum restrooms for the duration of the exhibition.