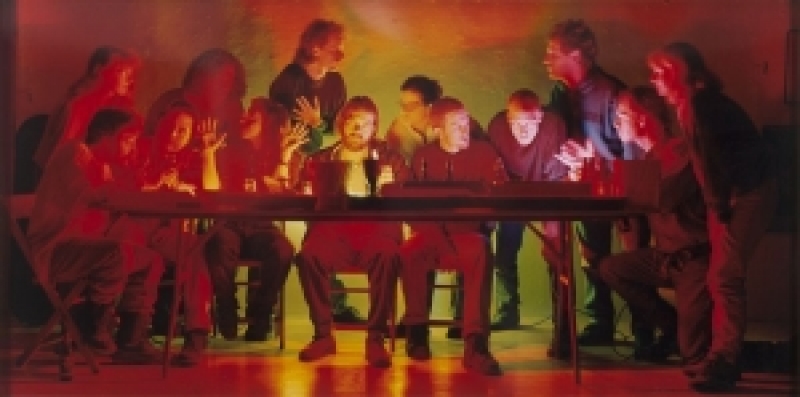 The Last Supper, 1995, Ektacolor photograph, 48 x 96 inches. Collection of Burchfield Penney Art Center. Gift of Wade Stevenson, 1998.
Western New York Collects: Josh Iguchi
Mar 17, 2013 - Jul 21, 2013
This exhibition was the second in an ongoing series that highlights the work of a diverse range of visual artists with Western New York connections who have gained significant national and international recognition. Selected from Western New York collections, both public and private, this ongoing series also honors the role of local collectors in creating an enduring artistic legacy for our region. Finally, we hope this new series will reveal the varied, but always vital, relationships between artists and collectors.
Neither Sacrilegious nor Sacred: The Religious Works of Josh Iguchi
Josh Iguchi, working between the years that saw the controversies attending Andres Serrano's Piss Christ (1987) and Chris Ofili's Dung Madonna (1996), seemed to treat his religious subjects gently, if not reverently. During those years of such earnest artistic blasphemy, Iguchi's figures seemed almost nostalgic "harking back to scenes of the old masters" scenes of salvation and saintly sacrifice.
The iconic scenes are familiar to any student of the Renaissance and Iguchi referenced Caravaggio in his statements on these works, achieving a chiaroscuro by the light of an unearthly electric glow. They are shocking to us nonetheless because of their placement in the ordinary. Iguchi's saints haunt unpretentious places; his Jesus hangs in a Buffalo nightclub eating pizza and wings, drinking OV from a can. His martyrs are plucked from the corner bar, some adorned with the requisite drapery, some draped in the drabness of mid-nineties fashion. You can even imagine Nirvana blaring in the background of these scenes, beckoning to an audience that had already seen crucifixes profaned in the most original way (it had all been done before), "here we are now, entertain us."
Yet Iguchi's religious scenes did not cross the line into a facile parody either, like the Simpsons sitting down to the Last Supper. There is a consistent mood of ethereal gravitas that invites a contemplation of what is taking place. That is not to say that this series was intended as sacred art as seen in his Madonna and Child pieces where meditation on the classic embrace is disrupted by the placement of a creepy plastic doll. These pieces are without question the artist's perception of the iconic and not intended to be the objects of devotion.
The artist's self-portrait as St. Sebastian is a particular suffering unto himself, if not an inside joke. Iguchi's work is irony, but it is awe as we llen in the perfect facial expressions of the slackers witnessing the Ascension. Because of Andy Warhol, appropriation was not a sin, but a form of homage. In that way, Iguchi's religious scenes are more in the tradition of Warhol's series on the Last Supper after Da Vinci. Iguchi came from the same sort of industrial place as Warhol, factories and warehouses bespeckled with the gleaming marble statutes and icons of the ethnic churches.
Iguchi's religious art can be a revelation for us to see scenes of creation, crucifixion, resurrection and ascension without all the fuss-come as you are. So perhaps unintentionally, Iguchi hit upon a new and original thing during a decade in which new things were trying too hard to be original. Maybe the most avant-garde place to turn is to the traditional and its weighty history of meaning. And so through his ordinary people passing through salvation history, Iguchi chides, goads, teases and charms us into a meek kind of subversion.
Dr. Amelia Gallagher, Associate Professor of Religious Studies at Niagara University