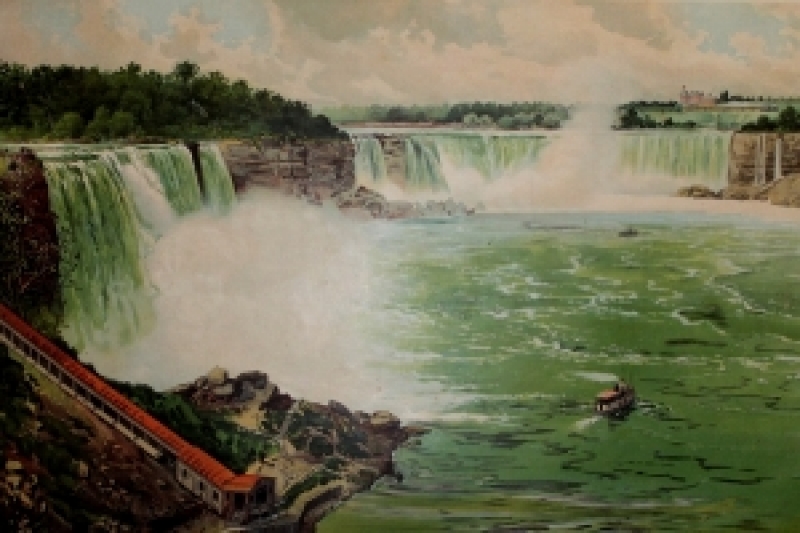 Unknown, Niagara, after 1892, chromolithograph. Castellani Art Museum of Niagara University Collection. Generous Donation from Dr. Charles Rand Penney, partially funded by the Castellani Purchase Fund, with additional funding from Mr. and Mrs. Thomas A. Lytle, 2006.
Wilde at the Falls: Touring the Falls with Oscar Wilde
Mar 27, 2016 - Jul 10, 2016
In partnership with the "Wilde on the Borders" Conference, hosted by Niagara University, Wilde at the Falls: Touring the Falls with Oscar Wilde featured historical Niagara Falls works on paper from the Castellani Art Museum (CAM) of Niagara University collection paired with notable quotes by Oscar Wilde following his 1882 visit to the Falls. Wilde's quotes offered unique insights into multiple facets of Niagara Falls such as Niagara as a symbol, advertising Niagara, extraordinary events, the preservation of natural beauty and the Free Niagara Movement.
This exhibition pairs "sourced" quotations with selections from the CAM's Charles Rand Penney Historical Niagara Falls Print Collection. The word sourced is quoted because, according to the Annotated Poetry Foundation Biography of Oscar Wilde, "Wilde has been credited with all kinds of quips he didn't say, or might have said, or is said to have said. For example, when Wilde entered New York Customs on a visit to America in 1882, he is supposed to have told the agents: 'I have nothing to declare except my genius.' Did he really? Who knows?"
Wilde at the Falls
"And is at First Disappointed and Critical –
But Grows Enthusiastic at Last"
- Buffalo Courier [Special Dispatch],
February 9, 1882, Niagara Falls, Ontario, Canada

"The day was all that could be desired for sight-seeing. Oscar Wilde, who made his headquarters at the Prospect House, breakfasted early, and wrapping himself in his long
fur coat, stood out on the veranda of the hotel for nearly an hour steadily gazing at the scene before him. A carriage was ordered at nine o'clock, and in company with his agent, Mr. Vale, they started for the different points of interest. The change of scenery and fresh air seemed to please Mr. Wilde.