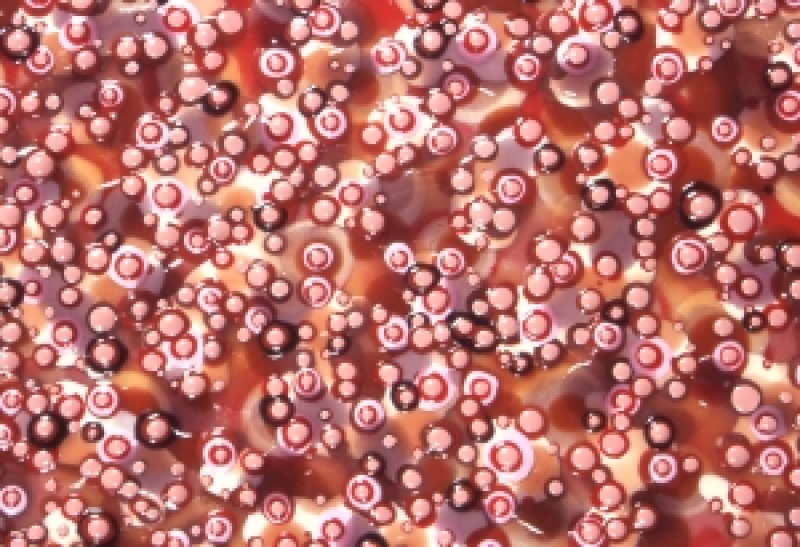 Felice Koenig, (detail) Cherry Fizz, 2009, Acrylic on canvas, 23 x 23-½ inches.
Felice Koenig: Color Crush
Jan 31, 2010 - May 23, 2010
The TopSpin series of solo exhibitions by emerging regional artists at the Castellani Art Museum of Niagara University continued with Color Crush, an exhibition of new works by Felice Koenig. The exhibition opened with a reception from 2:00 – 4:00 p.m. on Sunday, January 31, 2010 and runs through May 23, 2010. The TopSpin series is sponsored by Tops Friendly Markets.
Koenig's work emits a warm vivacity absorbing the viewer into the lush tactile surfaces of her paintings. Her works can take up to twelve months to complete. Surfaces are built up one layer of color at a time. Without any preconceived notion of when a piece is finished, Koenig builds what she calls "paint mountains" which are dots…upon dots….upon dots. According to the artist, Color Crush "explores the relationship of being an abstract painter and the formal links of my love and fascination with color."
Each layer of paint completely changes the painting, sublimating the previous layers and in a way "crushing" them. The layer upon layer process is a record of color exploration, yet much of it is not obvious in the final piece. According to Koenig, "I think that knowing that aspect of the process can add to the viewer's experience. It is something that I think about/contend with as I add each layer. A kind of a pressure knowing that so much of the previous layer will be in a sense lost when I add a layer." If someone were to cut into one of Koenig's paintings they would see a compressed record of the layering of paint, "akin to that of a stratified geological record," according to Michael Beam, Curator of Collections and Exhibitions.
Koenig developed the titles of the works from the "layering of thoughts and intentions in each painting." From a distance the works appear to be fields of color existing on a flat plane. Upon closer inspection, viewers become aware of the exorbitant amount of time it has taken to create each work, built layer upon layer.
Felice Koenig is a practicing artist with a national exhibition record. She received her Bachelors of Fine Arts from Southern Oregon University in 1999 and her Masters of Fine Arts in 2003 from the University of Texas at San Antonio. Her work has been shown in New York, Chicago, San Antonio, and Portland, as well as many smaller cities. She currently lives and works in Buffalo, New York.
Click here to access a digital copy of the exhibit catalog.