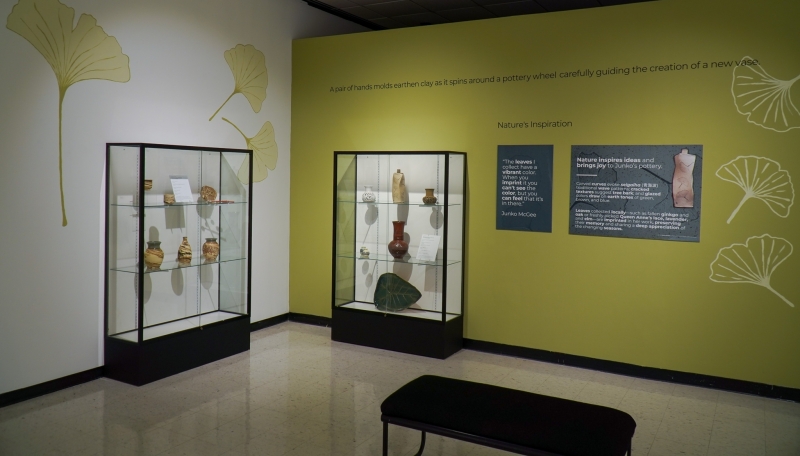 Shaping Nature
Apr 27, 2023 - Oct 29, 2023
---
A pair of hands molds earthen clay as it spins around a pottery wheel—carefully guiding the creation of a new vase.
Shaping Nature explores the relationship between function, nature, and artistry in the work of Buffalo-based potter, Junko McGee. Junko moved from Tokyo to Buffalo in 1987.
In 1995, Junko learned pottery in Western New York after enrolling in pottery classes at the University at Buffalo Creative Craft Center. Her deep connection to the region over the years includes creating specific pottery for the local Japanese community's tea ceremonies, teaching in the Buffalo school district, and participating exclusively in area art festivals.
Junko's work blends influences from both American and Japanese pottery. Her passion for experimentation focuses on discovering new techniques, forms, and textures that encourage the sensory exploration of each piece.
Nature provides both material and inspiration: from the clay used to the leaves imprinted to the changing of seasons. The infusion of color into Junko's pottery through glazes or the use of colored clay emphasize the earth tones and organic patterns in her work.
A "people-friendly" approach guides each and every one of her creations—a core design idea that reflects the warmth and human connection between pottery makers and users.
---

This exhibition is curated by Niagara University course AHM357A: Exhibiting Cultures, a hands-on introduction to developing museum exhibitions connected to cultural heritage.

Professor: Edward Y. Millar

Student Curators: Wonwoo Choi, Becca Mansfield, Sebastian Newell, Amelia Olander, Jaycee Pauline, Sheila Strott, Tucker Sylvester, Anjali Verma
The reception for Shaping Nature will be held on June 15 at 4 p.m. in tandem with our opening reception for Northward: Niagara River Views.
Shaping Nature is made possible through the New York State Council on the Arts with the support of Governor Kathy Hochul and the New York State Legislature, and Niagara University.