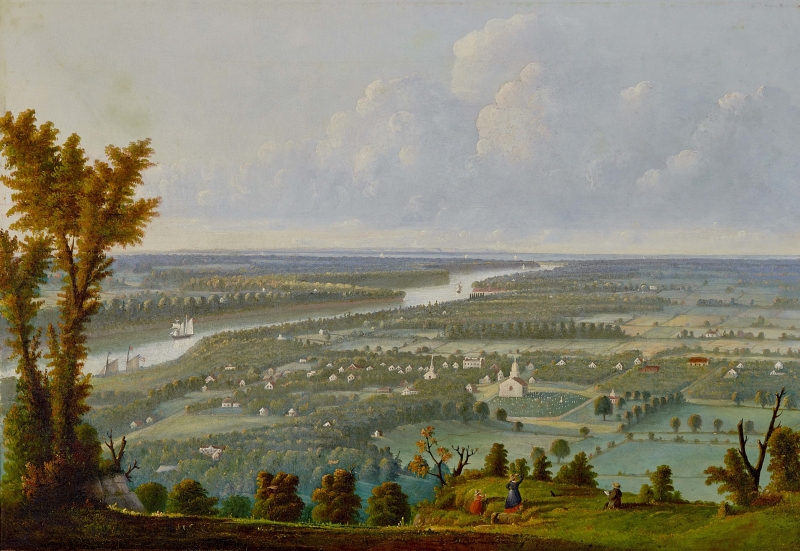 Capt. James Van Cleve (American, 1808-1888) View of Lewiston Village, Niagara River, Lake Ontario, and Highlands of Toronto, from the Mountain Ridge, c. 1861, oil on canvas, Courtesy of Peter Barton Hutt
Northward: Niagara River Views
Jun 15, 2023 - Mar 31, 2024
---
From Niagara Falls to Youngstown, New York, countless artists have recorded the beauty along the scenic stretch of the lower Niagara River. Northward: Niagara River Views presents these scenes, created between 1811 through 1888.
In the early years of the United States, artist travelers shared their impressions from a multitude of points along the river toward Lake Ontario. One of those artists was Danish American artist Ferdinand Richardt (1819–1895). After undergoing year-long conservation treatment in 2022, a never-been-shown painting of Niagara University and the Niagara River will be the centerpiece of this exhibition.

Another early 19th century artist who recorded early Niagara was British artist William Henry Bartlett (1809–1854). Ten prints from his suite of steel engravings will be included, as well as copper etchings by Buffalo artist Amos W. Sangster (1833–1904). Two historic paintings of Lewiston from the top of the Niagara escarpment (the steep slope above the village) and a rare painting by steamboat captain Captain James Van Cleve (1808–1888) of Lewiston, will be loaned from a private collection.
The United States rivers that flow north were crucial to the Underground Railroad and enslaved people's flight to freedom in Canada. Northern flowing rivers fed trade routes to the Atlantic Ocean, like the 24-mile-long Oswego River to the east of Niagara Falls, which was also one of the main gateways to freedom. To the west, the Niagara River is the longest running in the state at 36 miles. Since many major rivers in the U.S. flow south, with the Mississippi, Missouri, and Ohio Rivers being the largest, there's an assumption that all U.S. rivers flow south. In fact, there are 48 rivers that flow north, including the Niagara River.
This exhibition complements two additional concurrent exhibitions about the Niagara River and Falls: Biological Regionalism: Niagara River, Western New York by Alberto Rey and Knowing Land.
"Northward: Niagara River Views" is made possible by the New York State Council on the Arts with the support of the Office of the Governor and the New York State Legislature.
The conservation of "Niagara University" by Ferdinand Richardt was made possible by the NYSCA/GHHN Conservation Treatment Grant Program administered by Greater Hudson Heritage Network with public funds from the New York State Council on the Arts.