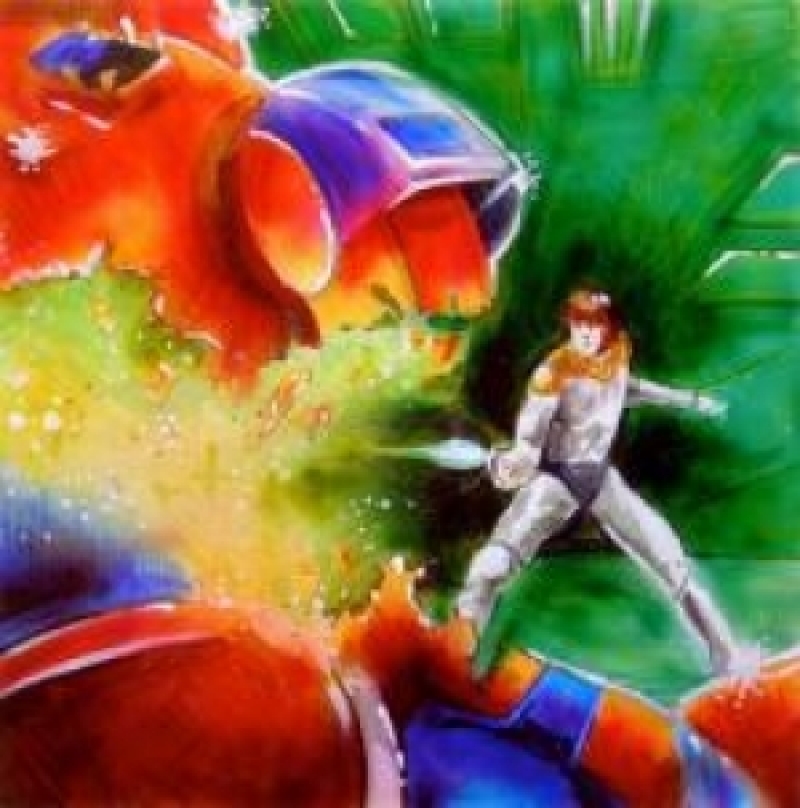 Tom Holt: Test for Echo
May 31, 2009 - Sep 13, 2009
A former preparator and assistant curator at the Burchfield Penney Art Center, Holt has been active in the Buffalo art scene for several years, arriving in Buffalo in 2002 to start the successful, but short lived, Kamikaze Art Gallery in Allentown. His work has been exhibited at Hallwalls Contemporary Art Center, The Burchfield Penney Art Center and the Buffalo Arts Studio. Holt has engineered large-scale work for Squeaky Wheel and Roger Waters of Pink Floyd. His work incorporates the styles of graffiti, anime and video games, ranging from small pencil illustrations and mixed media paintings to large-scale spray painted murals and digital video projects. He currently resides in Buffalo where he maintains an active studio.
Test for Echo melded together all of Holt's artistic interests from painting and illustration to digital video and graffiti. Particular influences are attributed to graffiti artists who "tag" urban locations and derelict spaces. Returning a few weeks later to see who was inspired to "respond." Often, numerous artists add their "tags" in a spontaneous arrangement that Holt describes as, "...free-form painting akin to the musical format of jazz arrangements. The purest satisfaction in art is taking something small and recreating it on a grand-scale altering the experience and contributing to a greater visual impact."
A highlight of Test for Echo was a multi-media graffiti mural that Holt created especially for the TopSpin exhibition: a spray painted work that covered one wall of the gallery, while incorporating projected video images.
Holt is motivated by a wide array of today's visual media including advertising, animation, the Juxtaposed movement and fantasy animation. His work is influenced by mass media, commercial advertising; infomercials, art museums, urban graffiti and early video games. His appreciation for both video art and mural paintings has led him to explore how they can be combined successfully.
Holt's vision is often expressed through cartoons. He believes "cartoons carry a stronger sense of originality than other artistic expressions due to the digital age of photographic reproduction. Illustrators and cartoonists define their style by the way they interpret the world around them."
At the time of its May 2009 opening, Test for Echo was the latest in the museum's series of solo exhibitions profiling emerging artists of Western New York, and ran through September 13, 2009. The TopSpin series is sponsored by Tops Friendly Markets.